Summer in Graz
Get out and dive into the fun!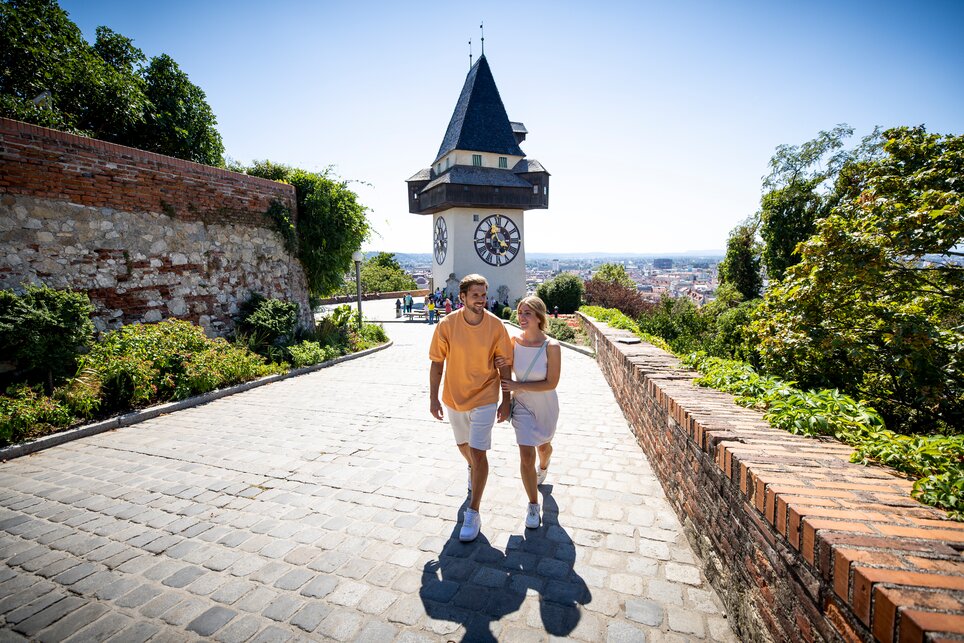 Which city besides Graz can boast of having a green, walkable mountain right in the middle of the old town? The Schlossberg.
Once you reach the top, there is much to discover and enjoy the magnificent views: the red roofs, the hills, and mountains of the surrounding area. Newly in love couples often pay less attention to the surroundings as the place is still considered the number one romantic meeting point. However, it's definitely worth taking a look around: the Clock Tower of Graz is a curiosity in itself. The hour and minute hands are actually swapped, which has confused many visitors trying to compare the time on their watches.
From the Schlossberg, you naturally have the best overview of the city! If the nearly 300 steps from Schlossbergplatz to the Clock Tower or the footpath through Sporgasse and Karmeliterplatz seem a bit too sporty, you can choose between the Schlossberg Funicular with panoramic views or the glass elevator inside the Schlossberg rock. You can reach the valley stations on foot or by tram (lines 3 and 5) through Sackstraße.
Summer in the city
Summer nights in Graz
High above the city on the Schlossberg, you can also enjoy first-class gastronomy: the restaurants on the Schlossberg are a popular meeting place, not just for the people of Graz. Immerse yourself in the city and spend a few mild summer days in the provincial capital of Styria. Here, modern architecture nestles against a historic old town and cozy pubs against fine restaurants. There are countless shopping opportunities, culinary highlights, countless events and an exciting nightlife. Make the most of 2 days with our package offers – namely 3! With its sunny flair, Graz is often said to be the northernmost city in the south. Convince yourself of it!
Graz - Austria's Capital of Delight
Explore Graz on a city tour
Historic centre walking tour, daily at 2.30 pm
During your stay in Graz, you should definitely see for yourself why the old town of Graz was included in the UNESCO World Heritage List. The guided tour of the old town starts daily at 2.30 pm. at the Tourist Information Graz Region in Herrengasse 16 (also the location of Europe's largest arsenal!) (reservation required!). But don't worry, the Graz guides not only serve up historical facts and dry numbers, but also lots of interesting and tasty information about the city, its residents, the buildings and some entertaining stories.
If you would like to go on an exciting tour of discovery through Graz with your friends, our tourism department will organize a program specially tailored to your needs - discover it now!
Inspiration tips for Graz