Island in the Mur
Island or boat? It isn't easy to tell with this extravagant steel construction by US-American artist Vito Acconci. The Island in the Mur was commissioned as part of the city's role as Capital of Culture in 2003. What is clear is its function as a link between river and city, a wonderful place to drink coffee or enjoy a cocktail. With the river Mur swirling cheerfully by on both left and right sides, from the Murinsel you can appreciate a completely new perspective of the city of Graz.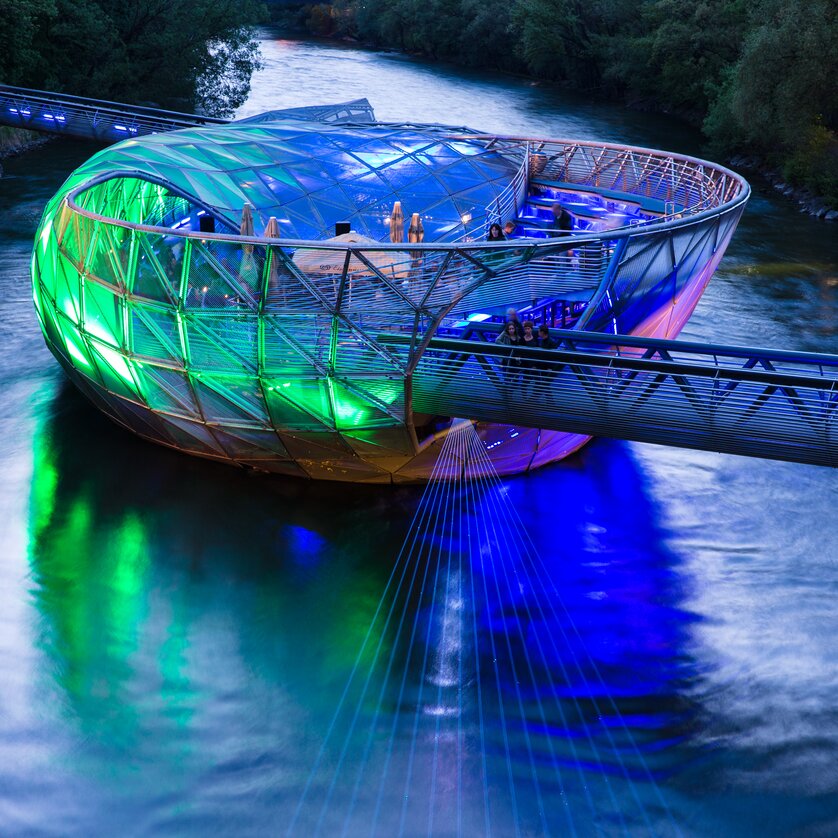 Details
The island has brought the river Mur back to the people of Graz. Up to a few years ago, the river had been polluted by sewage water and industrial effluent. So the fact that the Mur had dug itself 12m deeper into its riverbed after its regulation in the 19th century hardly bothered people. Now the river connecting and dividing the city has a good quality of water again, has become inviting.
Graz as "Cultural Capital of Europe 2003" - an impetus to a fresh start.
Graz-born Robert Punkenhofer inspired the New York artist Vito Acconci to design an accessible artificial island. The project was realized as a 47m-long reticular steel construction. The curved and twisted shape can be associated with a half-opened shell. In its open part, wave-like blue benches form an amphitheatre for events of all kinds. Under the domed glass roof cooled by water, a café in blue and white offers the opportunity to enjoy being close to Mur - a new feeling even for locals. Between the café and the amphitheatre a three-dimensional maze made of ropes, and a slide are promising an "island adventure" for children.
What is called an island, is a ship in fact. She is held by an anchor and is stabilized additionally by the two footbridges connecting her to the river banks. She has even got navigation lights. As a warning to other ships possibly straying into Mur. But as it is shining in bright blue at night, the Mur Island cannot and will not be overlooked anyway.
By the way: After the "Cultural Capital" year the island would have been sold to another city on another river. However, the locals have fallen in love with it and so it will stay anchored in the river. Probably for the next 50 years. And a once-in-a-century flood will not distroy it. That's what analyses made by the Graz University of Technology promise us.
Address
Contact
Island in the Mur
Address
Lendkai 19, 8020 Graz