Sustainable holidays in Graz
Explore GRAZ sustainably
It's the talk of town, everybody wants to do it, but often we don't know how it works.
The following tips will help you to explore the city in a sustainable way and help to navigate through the manifold offers on that topic. A nice add-on: when you take advantage of our suggestions you will always get in touch with locals and people living in Graz, making you a part of the city; because when you visit Graz you are never just a tourist or a guest. You are temporary local…
By the way: the checkfelix booking portal ranked Graz among the top 3 in the world in the 2023 city index for responsible travelers (article only in German language).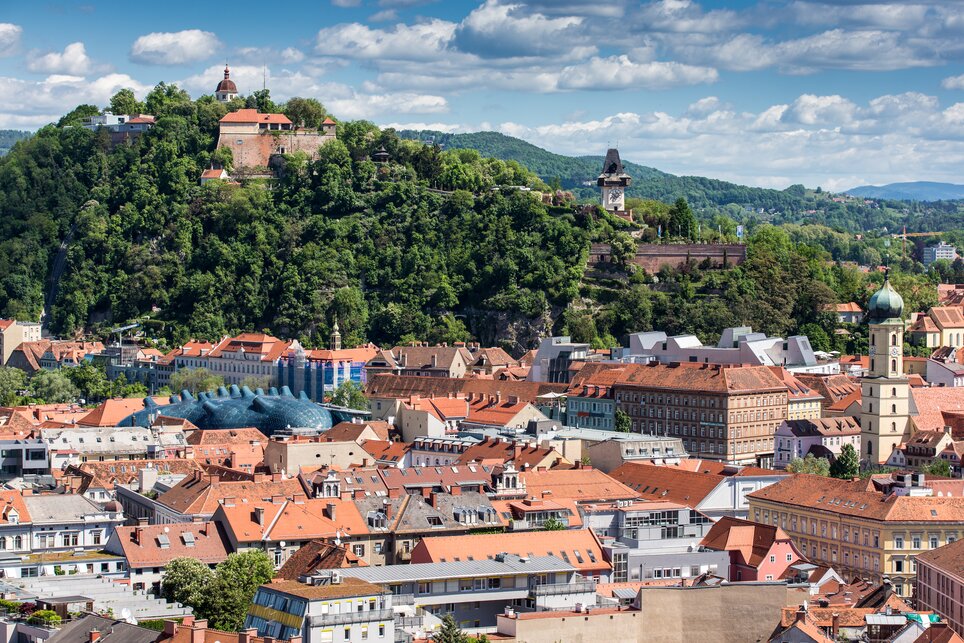 Sustainable City Guide
In Austria's second-largest city, sustainability is not just a buzzword. Nearly 60% of Graz is reserved for urban green spaces. Zero waste and social-impact stores are scattered across the car-free old town. Wednesdays are officially meat-free days in schools and kindergartens. Green hydrogen buses ply the streets. Explore the unique 'Mediterranean' influence, UNESCO-recognized sites, underground Jazz scene, farm-to-table eateries, future-minded fashion, next door hiking, and community-centric festivals on your next visit to Graz
Sleep
Graz offers you a large number of hotels which are run by local families. The best way to book a room is directly through their website. But why should you choose a family-run hotel? By deciding to book such a hotel, you get the guarantee that you support the local economy and with the tax money improvements are made for the people living in the city , such as enhancements of local infrastructures or founding new cultural institutions.
Shopping
Yes, even when shopping you can do something good. Graz offers a wide range of shops which are supporting charities, providing jobs for people in difficult life situations and giving them a new perspective for their future.
You might wonder where to find the right souvenir? Make sure to visit our Information Center. There you will find lots of Graz souvenirs made (at least) in Austria and always supporting local handicrafts
Sightseeing
The best way to explore Graz is by walking, as the city is compact, relaxed and very easy to navigate. Make sure to join one of our many guided tours with our knowledgeable tour guides who have the best stories and all the history at hand. Easy to book directly through our website.
Tip: The Graz Card is a great deal to make the most out of your stay. It gives you free access to the most important museums of the city and free use of public transport, plus various reductions on tours and more entrances to museums in the region around Graz.