Mausoleum
An imperial place of rest next to the Dom. Turquoise domes stand out against the blue sky above the Mausoleum and, together with the Dom and Katharinenkirche church, define one of the city's magnificent views. You could almost have been whisked away to the lands to the south, given how this ensemble enchants any visitor with more than just a hint of Florentine flair. Here in Graz, Emperor Ferdinand II had his court artist Giovanni Pietro de Pomis lay out the impressive tomb.
Opening hours:
Tuesday - Sunday, 09.00 am - 05.00 pm
Guided tours are also possible in winter by prior arrangement - request via the Diocesan Museum: T +43/316/8041-890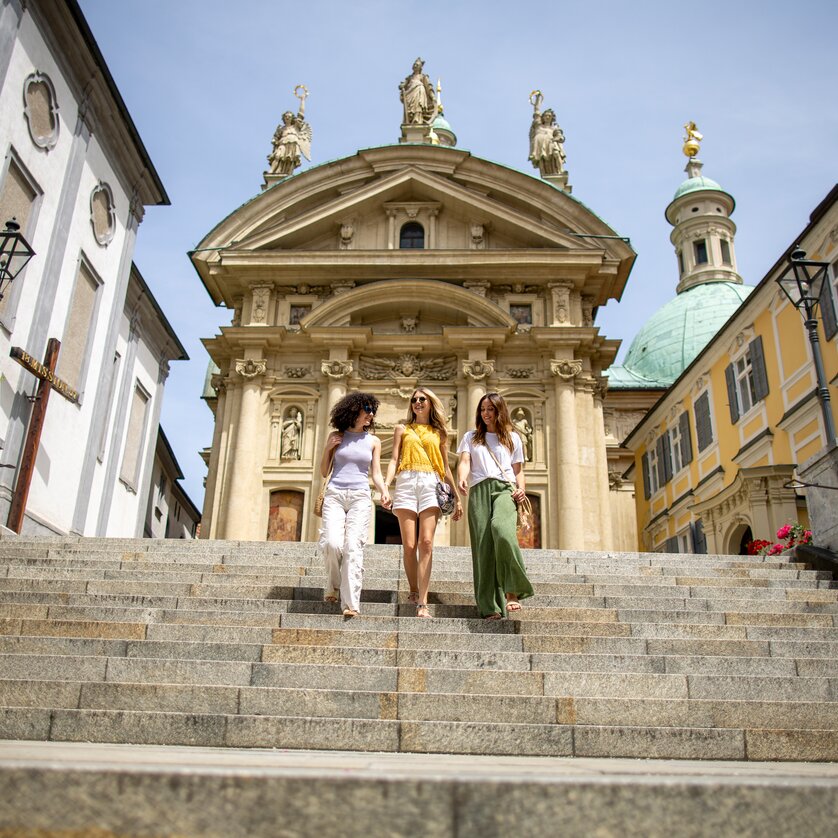 Details
The so-called Stadtkrone ("Crown of the Town") of Graz comprises such important buildings as the Cathedral, the Burg, the Old University and today's Seminary (former Jesuit college). But it is the domescape of the Mausoleum which also visually crowns the city.
In 1614 Ferdinand commissioned his Italian court painter and architect to erect a mausoleum and an adjacent St. Catherine's Church next to today's Cathedral. It was to become one of the most important buildings of the early 17th century in Austria. The oval dome above the tomb chapel was the first of its kind built outside Italy. The façade of St. Catherine's is composed with rich small details and demonstrates the taste of time at the threshold of Renaissance and Baroque. As a gable statue, St. Catherine of Alexandria is looking to the former Jesuit college opposite, where in 1585 Graz University was founded. After all, St. Catherine is worshipped as the patron saint of universities.
In 1619 Ferdinand was elected emperor and left Graz for Vienna. Construction work at the Mausoleum came to a standstill. So in 1637 Ferdinand was laid to rest in a half-finished, "draughty" tomb. Only his grandson, Emperor Leopold I, commissioned a young Graz artist to make the interior. The young artist later on became the famous Austrian Baroque architect Johann Bernhard Fischer von Erlach.
The vault is dominated by an impressive sarcophagus of red marble. It is the final resting place of Ferdinand's mother, Maria of Bavaria. Just a plain tablet on the wall indicates the grave of Emperor Ferdinand.
By the way: An interesting painting in the barrel vault of St. Catherine's illustrates the relief of Vienna from the Turks in 1683. Up in the skies, Emperor Leopold I is glorified as the great defeater of the unbelievers. Though he had fled from the Turks to Passau in time and had returned to Vienna only after their retreat...
Address
Address
Bürgergasse 1, 8010 Graz