Graz Card
Lots of culture and lots of connections
Simply purchase the Graz Card and enjoy free travel on public transport and free visits to many museums and sights in Graz. The ideal companion for a sightseeing tour with your family.
Buy your Graz Card now!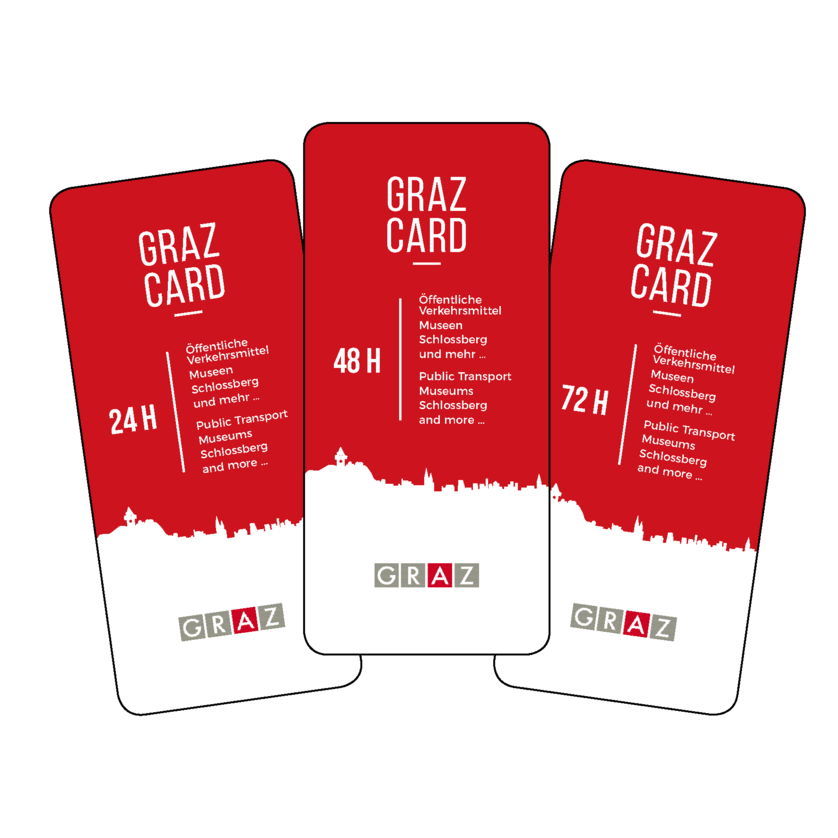 Graz Card
Public Transport / museums / Schlossberg and more
Free travel on public transport in the tarif zone 101 during the whole period of validity. The ticket is valid in the entire city area including airport transfer.
Free ride with the Schlossbergbahn funicular and Schlossberg lift.
Free entry to selected museums during the whole period of validity.
2 children under 15 travel free with each Graz Card holder.
Good to know: The Graz Card is available for 24, 48 or 72 hours.
Graz Card
Flexible and easy: How it works
Purchase the Graz Card now online or during your stay:

Choose your Graz Card: Select beginning of validity (decide by date and time) and specify the number and age of children. Note: A ticket for every child is required. The Graz Card can be used in printed (as an A4 printout) or electronic form (PDF) on your smartphone.
Use the Graz Card with your family: Enjoy all advantages free of charge - The most simple and convenient way to explore Graz!
Note: The personal Graz Card is valid only in conjunction with photo ID and is non-transferable.
The Graz Card for children can only be used in conjunction with an adult card (full price).
Please specify the number and age of children when booking. A subsequent consideration is not possible.
Note: Guided tours are not included, except the admission to exhibitions/locations is only possible as part of a guided tour. Please contact the partners directly by using the indicated links to verify opening hours and days.
The locations of the Universalmuseum Joanneum are closed on Mondays.