Graz in 48 hours
Two days in the Capital of Delight
Two days means twice the fun! If you spend 48 hours in Graz, you have time to see plenty of the city's greatest highlights. In addition to leisurely strolls through the Old Town and up Schlossberg hill, you can even venture past the city limits.
After two eventful days full of smiles and endorphins, we're sure you'll find yourself falling in love with this beautiful city. And it's a love that lasts!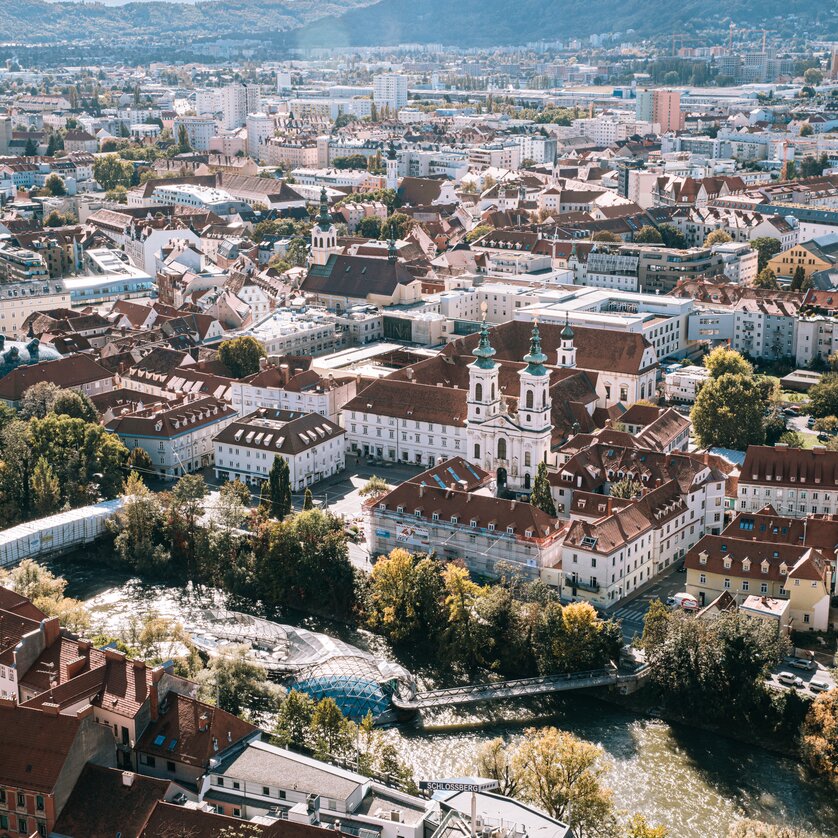 Package deals for two days in Graz
Like Christmas, only better
If you have been toying with the idea of a trip to Graz, the great offers and package deals for a two-day city getaway will surely encourage you to turn your idea into reality. And as soon as you have booked your accommodation, it's time to start planning your stay – with our tips for 48 hours in Graz!
Package offers
"Top" experiences on Schlossberg hill
To get a first overview of the city, it's a good idea to visit Schlossberg hill. On foot, with the funicular or the lift – the way up Graz's landmark hill is a highlight in itself. With its panoramic windows, Schlossbergbahn funicular offers splendid views across the city roofs of the UNESCO world heritage site. Alternatively, you can catch a glimpse of the illuminated interior of the hill from the glass cabins of Schlossberg lift.
For your way down, you can either choose the Schlossberg stairs or the somewhat more action-packed alternative, the Schlossberg slide. If you opt for the stairs that lead right to Schlossbergplatz, you can enjoy different city perspectives along the way.
Shopping in the heart of Graz
After your exploration of Schlossberg hill, new adventures await you down in the Old Town. From Schlossbergplatz, amble through Sackgasse with its many antique shops. "Kastner & Öhler" mall is also just a stone's throw away. On a total surface of 20,000 square metres, you can find luxurious, trendy, sporty and classic pieces by more than 500 international brands there. After your shopping spree, we recommend an aperitif on the mall's roof terrace, which offers splendid views of the Clock Tower.
Shopping in Graz
Historic experiences and impressive architecture
From the Styrian Armoury to Kunsthaus
After shopping, it's time for some history! At the Styrian Armoury you can join a one-hour tour of the world's largest collection of historic weapons that gives you fascinating insights into the world of historic warfare.
Your educational journey continues at Kunsthaus, also affectionately called "The Friendly Alien" because of its unusual architecture. Inside the museum, you can catch extraordinary events and marvel at an interesting mixture of temporary and permanent exhibitions.
After an eventful day, we recommend kicking back with a cup of coffee at Murinsel. The island in the river Mur was built by US architect and installation artist Vito Acconci on occasion of Graz becoming European Capital of Culture.
Evenings full of cultural and culinary highlights
How about topping off an exciting day of sightseeing with an evening at the opera? With the "Bühnen Graz Gourmet" deal, you can start your evening of cultural highlights with an exquisite meal at one of the top restaurants of the Capital of Delight.
Good to know: Since 2008, Graz has been Austria's first and only Capital of Delight.
Capital of Delight
How to end your first day in Graz
To end your first day in Graz, we recommend a relaxed evening stroll through the Stadtkrone ("city crown"), passing by the Burg with its double spiral staircase and Graz Cathedral with the mausoleum. And how about a little nightcap at a cosy bar to reminisce about the day's highlights and plan your second day in Graz?
48 hours in Graz – day two
New day, new experiences
The relaxed evening will have recharged your batteries for a new day ahead – and for a visit to the farmer's market!
Discover culinary treasures at the farmer's market
At the farmer's markets of Graz, you can find a vast selection of regional delicacies. Every day except Sunday, local farmers proudly present their juicy apples, bright orange pumpkins and savoury pumpkin seed oil there. You can also find stalls selling a wonderful selection of colourful flowers. Amble through the market, enjoy the smell of freshly baked bread, fragrant herbs and cured meats and treat yourself to a piece of homemade cake.
Gourmet tip: The farmer's market is the perfect place to stock up on Styrian treasures to take back home as a souvenir or present. After all, who wouldn't love a bottle of Styria's "black gold"?
After stashing your haul at your hotel – it's easy to reach by bus, train or tram – it's time to explore even more of the city.
If you want to visit the farmer's market by car, there are discounted park tickets available from all designated stalls at Kaiser-Josef-Platz market for the APCOA parking garage. This makes shopping even more pleasurable, don't you agree?
Discover the splendour of Eggenberg castle
In the west of the city, more precisely in Eggenberg, there's a very special treasure waiting to be discovered. With its magnificent stately rooms, the renaissance castle of Eggenberg is a UNESCO world heritage. Join a guided tour to see the virtually unchanged stately halls with their precious original interior and more than 500 ceiling paintings.
Eggenberg castle
Your second day in Graz
Explore more
As your second day in Graz slowly draws to a close, it's time to relax, rest your tired feet and recharge your batteries for a culinary city tour (only in German!) on the next day. Don't miss this leisurely stroll full of culinary stops and fascinating stories!
We're sure your two-day trip to Graz has left you with plenty of impressions and the determination to come back soon. After all, Graz makes you fall in love – and it's a love that lasts.
Traveling with a group
Did you know that shared joy is a double joy? The same is obviously true for unforgettable holiday experiences. Seize the chance to marvel at the city's fascinating 900-year history together with a group of friends or like-minded travellers. There are also special programmes for groups.
Short and sweet: If you don't have much time, you can also explore Graz in 24 hours.
Graz für Gruppen