Sightseeing and culture
Graz offers a lot – and then some
For a long time, Graz used to be known as "Austria's secret love". Why? Well, with a quarter of a million inhabitants, Graz might be Austria's second largest city, but it's not quite a metropolis. Many people would rather visit all the major cities before stopping by at the "small town at the river Mur".
In the heart of the city, there's Schlossberg mountain, on top of which a fortress used to perch in the 11th century. Looking down from there over the city roofs, you can see buildings from the Romanesque, Gothic, Renaissance, Baroque, Historism and Art Nouveau eras. What you can't see, though, are the romantic lanes and the hidden courtyards of the Italian-style palazzi. You also have to walk up and down the Gothic double spiral staircase that forms the backbone of the Burg to appreciate its unique construction.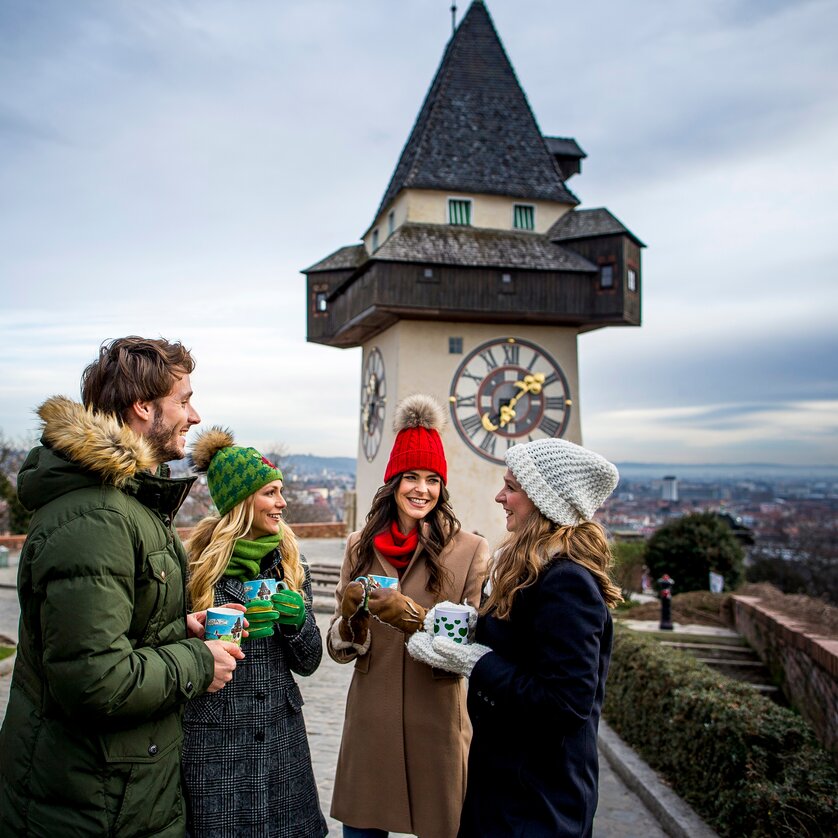 Graz used to be a residence city of the Habsburgs, and that is obvious with every step. Eggenberg Palace with its museums, gardens and magnificent park is also well worth a visit. For all of these attractions you should take your time. Because in Graz, sightseeing is not about quantity but about quality. If you don't manage to fit in all the highlights during your stay, you simply come back for more. Consequently, Graz no longer is Austria's secret love, it's "a love that remains".
A day in Graz
© Österreich Werbung - Federica Di Nardo
Graz | World heritage
The historic centre of the city of Graz became a UNESCO world heritage in 1999. In 2010, Eggenberg Palace received the same honour. The Old Town and the palace represent different artistic and architectural influences. It's not often that you find a city whose century-old history is so consistently reflected by its buildings – without giving it the dusty air of a museum. The most talented architects and artists from different regions have visibly expressed themselves in this city, creating a brilliant synthesis.
The urban structure of "The City of Graz – Historic centre and Schloss Eggenberg" is a prime example of a harmonious combination of different architectural styles from consecutive eras. Every era is represented by typical buildings, many of them true masterpieces. The outer appearance of the Old Town and the palace tells the story of their joint historic and cultural development. However, all of this is just dry theory compared to the spectacular reality you can experience with each step throughout the city – which makes a visit to Graz an absolute necessity.
Our Tip: "The Graz historic centre walking tour through world cultural heritage"
Graz | Austria's first "Capital of Delight"
In 2008, Graz was crowned Austria's first "Capital of Delight". The city invites locals and guests alike to be part of this delight. Becoming a "capital of delight" actually didn't involve inventing anything new. After all, everybody knows that the people of Graz are true connoisseurs. This is partly due to the region's mild climate, which offers optimal conditions for growing fruit, vegetables, wine and more. However, it's also due to the general zest for life that reflects the city's southern charm. What's more, Graz is a city of young people, all of them shaping both the city and its diverse restaurant, bar and club scene.
Quality always comes first in Graz – whether we're talking about shopping for fresh food at one of the local farmer's markets or about the innovative processing of products at the many partner businesses of the "capital of delight". Traditional inn, fine-dining restaurant or snack bar: It's all about taste – and tastes differ.
Who would have thought a few years ago that a guided culinary tour (only in German) would hit the big time, even in its vegetarian version? Graz is not only the capital of delight – it's a paradise for foodies and gourmets!
Capital of Delight
Graz | Tradition & modernity
Graz is UNESCO City of Design
The fascinating interplay between tradition and modernity is reflected everywhere around Graz: by the city's sights ranging from the clock tower to the Kunsthaus museum. And by the city's cultural scene ranging from the styriarte festival to the steirische herbst festival and the many museums such as the Styrian Armoury or the Künstlerhaus, to name but a few. The choice is all yours!
Even if there are centuries between the world heritage and the projects of the Capital of Culture: It's this constant alternation between history and present that our guests find so appealing. For instance, when you walk from the renaissance architecture of the Landhaus with its beautiful courtyards right into the achingly trendy Lendviertel district.
Since 2011, Graz has been City of Design, making it part of an international network. This offers the city's buzzing creative scene a platform beyond compare. The region's most important festival, the Designmonat, presents contemporary design in all its shapes and sizes at different locations across the city. Fashion, jewellery, showrooms, accessories, pottery and more – there's plenty to discover, experience and marvel at.
Graz | City of knowledge
The history of Graz as a university town goes way back to the 16th century. The city's many universities and institutions of higher education still attract students from all over the world. Numerous research institutes and innovative companies make Graz a city of knowledge, solidifying its excellent reputation as a congress city. 
However, Graz is not just a place to study, to research and to work – most of all, it's a city to live. Many major institutions and renowned companies are eager to tie their qualified staff to them – and to Graz. The young people working at these institutions contribute a great share to the city's lively atmosphere.
From arts and culture to architecture and an extensive network of cycle paths. From nightlife to sustainability, from modern domestic architecture to urban gardening. You live and learn – and Graz boasts plenty of new things to discover all the time.