Cycle paths in Graz
Useful information for cycling in and around the Capital of Delight
Environmentally friendly, flexible and independent – the locals of Graz love to ride their bikes. No hunting for a parking space, no waiting for the bus – all you have to do is hop in the saddle and cruise through the city at your own pace. Along the way, you discover the city's top sights, the best parks and gardens and much more. Cycling in Graz is a real treat!
Graz's network of cycle paths is as varied as the Capital of Delight itself, extending way beyond the city limits.
In total, there are 13 main cycle routes running along both sides of the river Mur. All of them can be combined in any way you like.
Overview of the city's cycle path network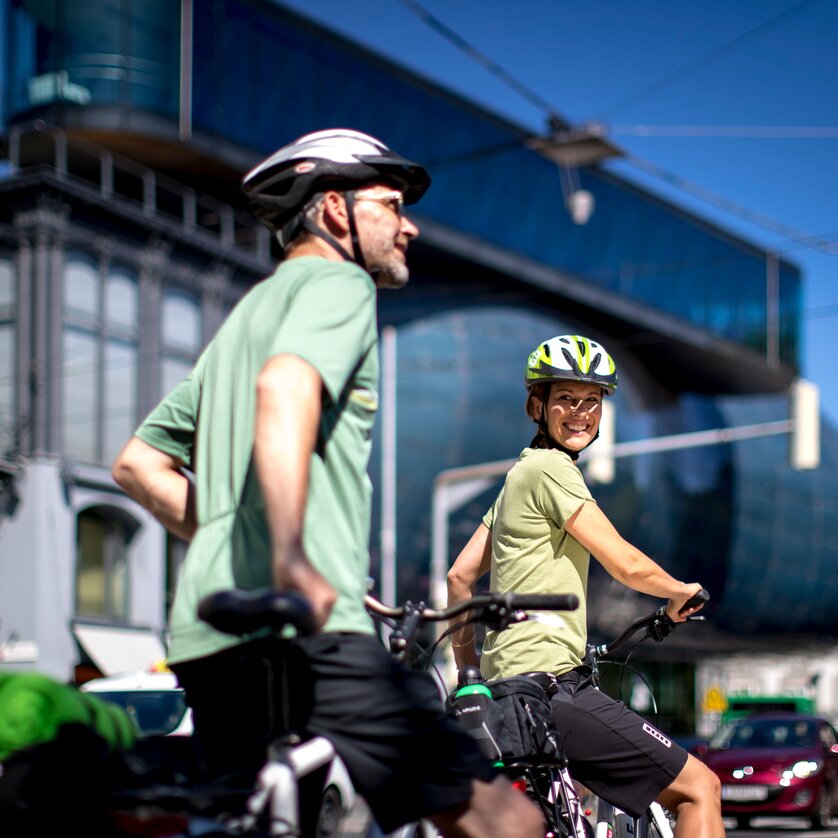 Cycling tours around Graz
Cycling fans will find an attractive range of enjoyable tours and trekking options in all directions in the Graz tourism region. Joie de vivre is guaranteed when cycling! The popular
Mur Cycle Path R2 is the main cycle route in the Graz region. It runs from the mountainous areas in the north, to the flat plains of the Graz basin in the south, passing through the centre of Graz on the way. There are also plenty of other interesting cycle paths on both sides of the River Mur that connect to the Mur Cycle Path and the city of Graz and can be combined with each other. There's something for every type of cyclist in the Graz region!
You can find a selection of the most scenic tours in our Cycling Tours in the Graz Region brochure and online – including information about the exact elevation profile, duration of the tour and any attractions on the route.
The most beautiful cycling tours at a glance
Cycling along the Mur Cycle Path
Welcome to the main cycle route in the Graz Region
The famous Mur Cycle Path is the heart and soul of Styria's cycle path network. It runs from the mountains, pastures and lakes of the Alpine north to the vegetable fields and vineyards of the charming south. The varied, 453-kilometre cycle path also takes you past the city of Graz, which is always worth a visit. Read more aboute the mur cycle path.
Our tip: In addition to the Mur cycle path, the region boasts numerous other great cycle routes. Many of them can be combined with the Mur cycle path and a tour of the city of Graz, as well as with each other.
Discover the bike rental stations of Graz
If you have problems with your bike, drop by at the city's bike service point and have your ride restored to working order.
A clever combination: You don't have much time but want to see as much as possible? On two wheels, Graz can be explored at speed. For some inspiration, check out our ideas for seeing Graz in 24 and 48 hours respectively!