Opera, theatre & classical music
The cultural highlights of Graz
The cultural scene of Graz is rich in contrasts. It features traditional art and classical music alongside innovative and futuristic approaches. The city hosts everything from classical music festivals to Jazz events and electronic music festivals. One of the highlights for culture lovers the world over is Graz Opera.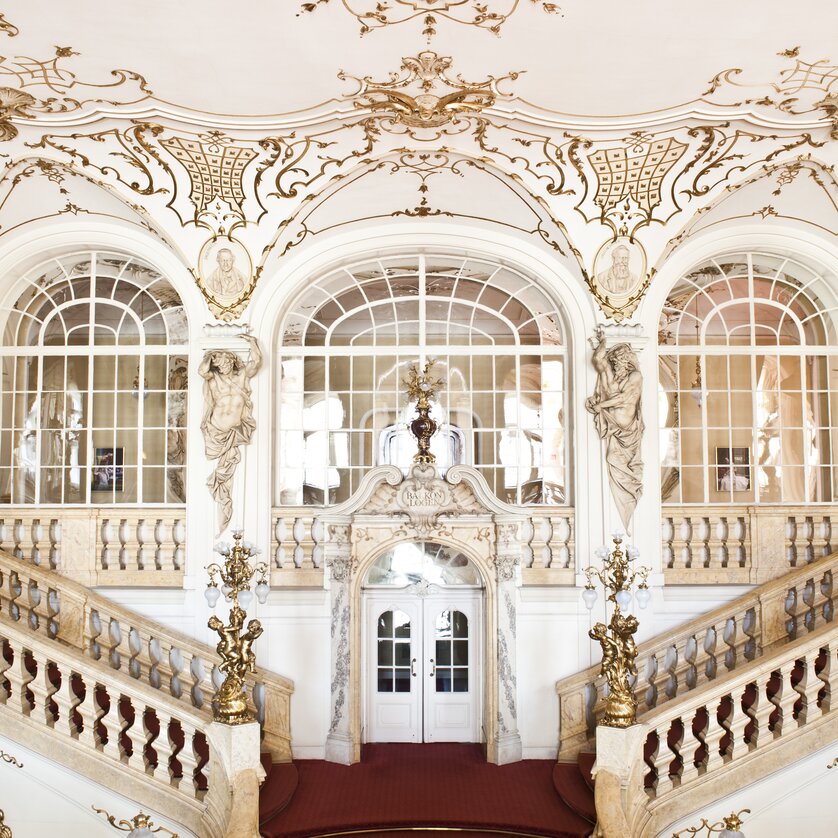 Graz Opera
Graz Opera has always sought to bridge the gap between the past and the present. The former municipal theatre is a magnificent stage for everything from musical theatre to ballet performances. What's more, Graz Opera is part of the European Route of Historic Theatres.
If you want to take a look behind the scenes of Graz Opera, you can do so during one of the many guided tours. In addition, our tourism experts also organise exclusive programmes for small groups.
 
Go to current shows
Graz National Theatre
The biggest stage for the locals of Graz is undoubtedly the picturesque Old Town with its many romantic Medieval lanes.
However, the best stage for classical plays, comedies and contemporary performances is Graz National Theatre. With its focus on dramatic art, the theatre has been a steppingstone for many actors of international renown.
For many decades, the city of Graz and the province of Styria haven been a driving force for contemporary literature and drama. It's not without reason that Graz National Theatre regularly tops the podium of the annual Nestroy Theatre Prize.
In addition to the "headquarters" at HAUS EINS, the National Theatre also features two additional locations at HAUS ZWEI and HAUS DREI.
 
Go to current shows
Styriarte
Harnoncourt, the creative mind behind the festival, the styriarte is a chance to feel even closer to his hometown of Graz.
The festival's distinctive charm is also due to the extraordinary event locations. For instance, performances take place at Stefaniensaal, one of the world's most beautiful historic concert halls, and at the UNESCO world heritage site of Eggenberg Palace. Since 2003, Helmut-List-Halle, a former factory hall, also regularly turns into a magnificent concert hall.
 
Styriarte
Styrian Music Society
The Styrian Music Society it one of Austria's most venerable concert promoters and one of the world's oldest concert associations. Concerts are held at Stefaniensaal and Kammermusiksaal, two of the world's acoustically best and most beautiful historic concert halls.
Every season, the Music Society stages star-studded orchestral, chamber and solo concerts as well as recitals as part of a subscription concert series. Their concerts for children and youths also have a long tradition.
 
Go to current shows
NExt Liberty
Whether it's with your family or with a group of friends. Whether it's in your free time or with school. Whether you're a theatre fan, a curious museum-goer or a cinema lover looking for a change. Next Liberty Youth Theatre offers something for everyone! The theatre owes its name to its location right next to the Sword of Light, a contemporary sculpture by Hartmut Skerbisch modelled after New York's Statue of Liberty or "Lady Liberty".
Our tip: We recommend combining a performance at Next Liberty with a visit to CoSA, where you can experience technology and natural sciences from up close.
 
Go to current shows
Mumuth
The House of Music and Music Theatre (MUMUTH) was built specially for KUG. It was first used in 2009 after a three-year construction period. The spectacular design by Dutch architect, Ben van Berkel, is based on the winning project from an international competition, and is dominated by steel, concrete and glass in various combinations and superimpositions. In 2010 it was awarded the Fischer-von-Erlach Prize and the Urban Land Institute Award. Alongside the large György-Ligeti-Saal, with its unique, variable acoustics, it offers an orchestra rehearsal space and a rehearsal stage, as well as other studios and theatrical infrastructure.
Mumuth: Events
graz
A love that remains:
To encourage repeat visits of the cultural institutions of Graz, there are special package offers. Find the best cultural highlights for your next stay in Graz in our calendar!