Kunsthaus Graz
Universalmuseum Joanneum
Wonder, enthusiasm, incredulity. The spectacular architecture of Graz Kunsthaus leaves nobody cold. Whilst it's not common for existing, traditional urban buildings to sit so perfectly next to breathtaking new architecture, with the setting of this museum of contemporary art in Graz it's definitely the case. The Kunsthaus floats like a mysterious blue balloon between the roofs of the historic city centre. Named friendly alien by its creators, its fascinating magic draws visitors in.
Opening hours:
Tuesday - Sunday & public holidays: 10 am - 6 pm
Open in addition: 26.12.2023
Closed: 24.12. & 25.12.2023
Adults: € 11.0 | School pupils, apprentices, students between 19 and 26 € 4.50 I Children and teenagers under the age of 19 free I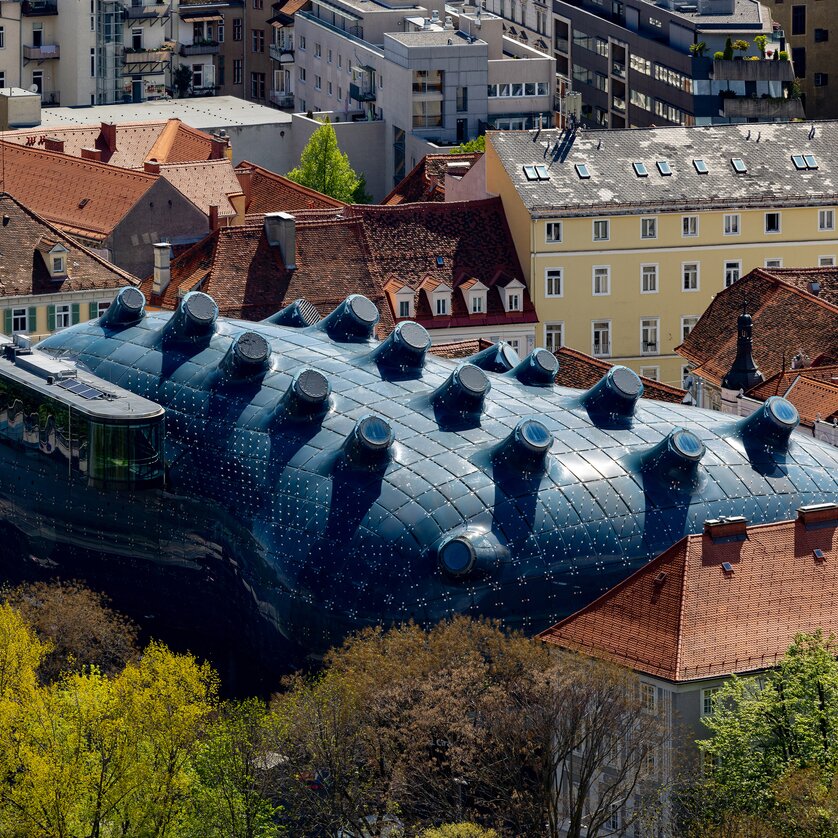 Details
Sometimes dreams come true. As is the case with the dream about a Kunsthaus in Graz. The site was a good choice. The right bank of the river Mur, so far a more or less neglected part of the city. The neighbourhood:
the Eisernes Haus (Iron House), a nearly forgotten, as hardly visible, formerly bold cast-iron construction built by Graz architect Josef Benedict Withalm in 1848.
The British architects Peter Cook and Colin Fournier won the Europe-wide competition to revitalize the Eisernes Haus and to extend it to a Kunsthaus (Art House). The biomorphic construction in shape and material consciously contrasts with the surrounding gabled houses and their red-tiled roofs, nevertheless, in great respect, snuggles up to older buildings.
1,066 acrylic glass elements form the skin of the friendly alien. At night it sends light signals or written messages from its "BIX façade" to the other side of the river. It sucks daylight from the north through its "nozzles" on top. The "needle" is a glazed viewing platform, stretching over Eisernes Haus and Kunsthaus on the eastern façade. Inside the Eisernes Haus there is the museum shop, the Kunsthaus administration and Camera Austria - an institution which in exhibitions and the eponymous magazine has devoted itself to photography.
The transparent base of the Kunsthaus houses a restaurant and a media lounge. The travelator, a slanted moving belt, draws the visitors into the interior of the alien. Which on its two floors offers quite favourable conditions for different kinds of exhibitions. Even though the Kunsthaus allows itself the luxury of showing exclusively art of the past four decades.
By the way: Not all of the nozzles are directed towards the north. One of them peers to the east. It brings the Clock Tower, the traditional landmark of Graz into the Kunsthaus - as an exhibit, so to speak.
Information on accessibility
Barrier-free holidays in Graz
Persons in wheelchairs with support
People with reduced mobility
Visually impaired persons
Persons with learning difficulties
Families with small children
Persons with dust/pollen/animal hair allergies
Address
Address
Lendkai 1, 8020 Graz