Accessible Graz
Travel without limits in the Capital of Delight
Graz is for everyone! That's why the Capital of Delight aims to offer accessible holidays for everyone – including accessible travel options, museums and restaurants.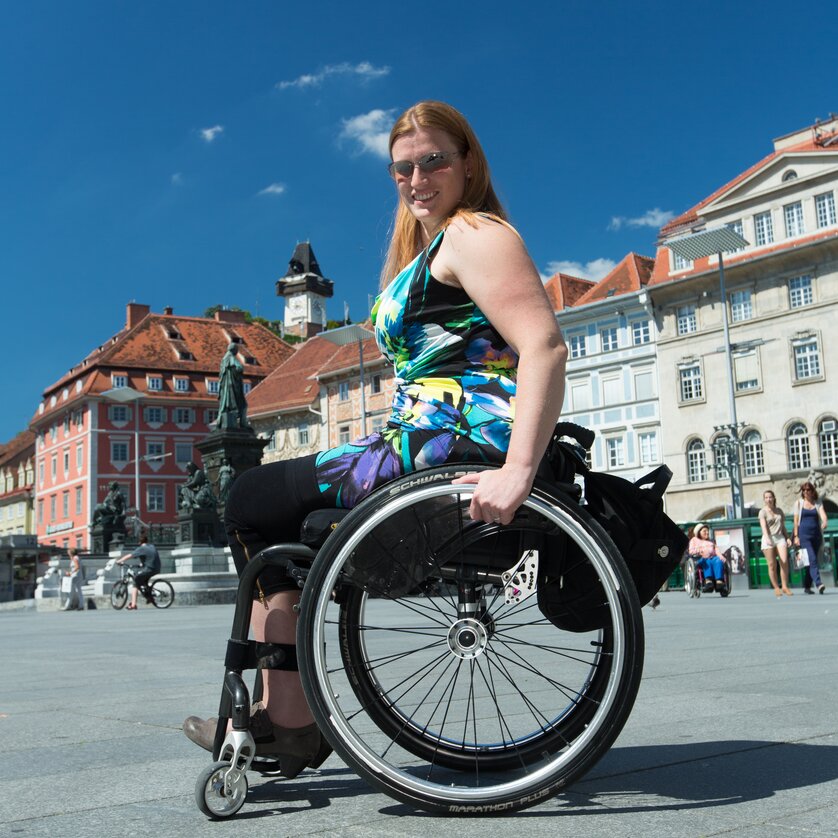 Getting there
Whether it's by car, plane, bus or train – there are many options for people with disabilities to get to Graz.
By the way:
Schlossbergbahn funicular and the Schlossberg lift are accessible, too!
Useful information for people with visual impairment
Useful information for wheelchair users
City routes for wheelchair users: On weekdays, wheelchair users will generally find it easier to navigate the city routes after 11.00 when streets are less crowded by delivery traffic.
Good to know: There are special wheelchair routes to reach the "Grazer Stadtkrone" (Graz city crown) with the cathedral, the mausoleum and Graz castle. These routes avoid steep and cobbled streets. Please note that these routes are only general recommendations – always plan your visit to the Old Town in accordance with your individual needs and abilities!
NB: To use the city's public toilets, you need a "Euro key". This universal key is available for rent at the Tourist Information Region Graz
Guided city tours for wheelchair users:
Services and links
The following links are designed to make visits to the Capital of Delight more pleasurable for people with restricted mobility or disabilities:
University Hospital Graz (with dialysis unit), Auenbrugger Platz 1, 8036 Graz, T +43/316/385-0
Landeskrankenhaus Graz II:
West: Göstinger Straße 22, 8020 Graz, T +43/316/5466-0
South: Wagner Jauregg Platz 1, 8053 Graz, T +43/316/2191-0
Unfallkrankenhaus Graz, Göstinger Straße 24, 8020 Graz, T +43/59393/43000
Krankenhaus Barmherzige Brüder Graz (with dialysis unit), Marschallgasse 12, 8020 Graz, T +43/7076-0
Dialysis institute, Elisabethstraße 54, 8010 Graz, T +43/316/323322
Dialysis centre Graz-West, Schererstraße 6, 8052 Graz, T +43/316/574000-0

Good to know: You can rent mobility aids such as wheelchairs and walkers at the following locations:
Heilbehelfe Georg Egger, Kapellenstraße 105, 8053 Graz, T +43/316/715168
Rotes Kreuz, Münzgrabenstraße 151, 8010 Graz, T +43/501/44516411
Tourist Information Graz Region, free wheelchair rental, free Euro key rental
If you need assistance, don't hesitate to contact the team of Graz Tourism!
Errors and omissions excepted.
Graz Tourism in collaboration with Behindertenselbsthilfegruppe Hartberg and Cedos.