Schlossberg Funicular
The Schlossberg funicular carries visitors comfortably up and down Schlossberg hill - wonderful views of Graz guaranteed.
What do Graz and Niagara Falls have in common? True, not easy to guess – it's a cable funicular railway. The Schlossbergbahn cabins carry visitors up and down the central Schlossberg hill of Graz in just a minute and a half. Riding the steep incline of the track offers the odd thrill and wonderful views of Graz. For over one hundred years this spectacular funicular has been conveying people up to Schlossberg hill in style, with a view to taking in the panorama and perhaps some giddy festivities.
Opening hours:
Monday to Thursday: 10 am - midnight
Friday and Saturday: 10 am - 2 am
Sunday: 10 am - midnight
Adults: € 3.00 | Pupils: € 1.50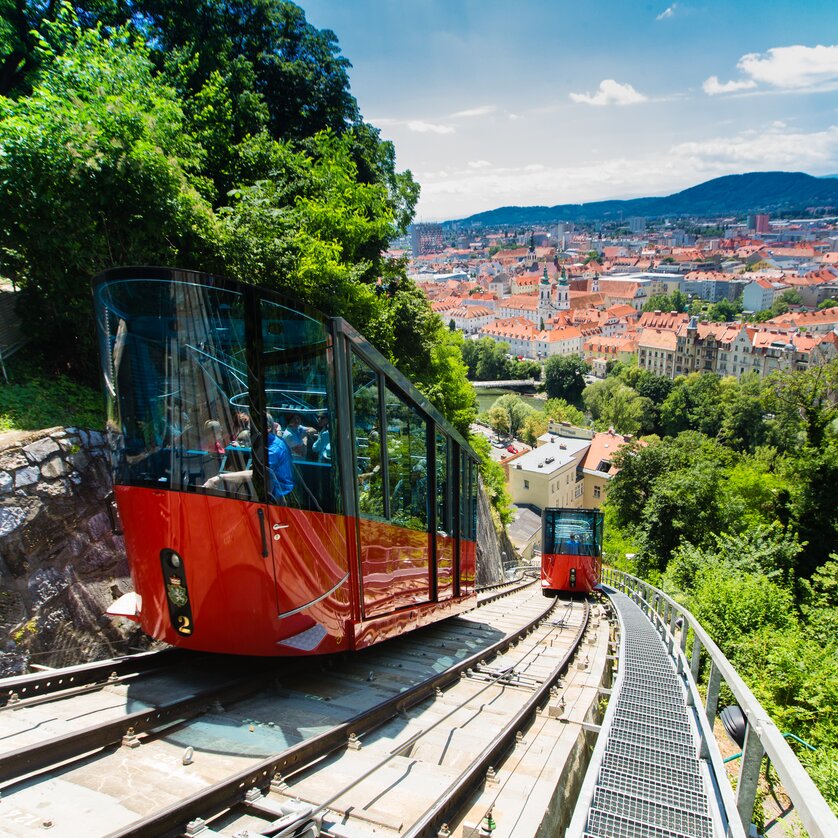 Details
It has been trundling up and down its tracks on a 61% gradient since 1894. Take your time to explore the paths twined around the hill. A puzzle: can you work out how the cars of the Schloßbergbahn sidestep past each other? If you find the right spot on the path, maybe... For a spectacular descent, try the "Kriegssteig" - the staircase that zig-zags down the cliff face to the Schlossbergplatz.
Information on accessibility
Barrier-free holidays in Graz
Address
Contact
Schlossberg Funicular
Address
Kaiser-Franz-Josef-Kai 38, 8010 Graz