Graz in 24 Stunden
Experience the Capital of Delight in one day
You only have limited time but don't want to miss out on the highlights of Graz? Challenge accepted! With our itinerary of points of interest, you can make the most of your day in Austria's second biggest city!
One thing's for sure: It only takes a few steps to fall in love with the city's romantic courtyards, the cobbled streets and tiled roofs. The result after 24 hours: a love that lasts.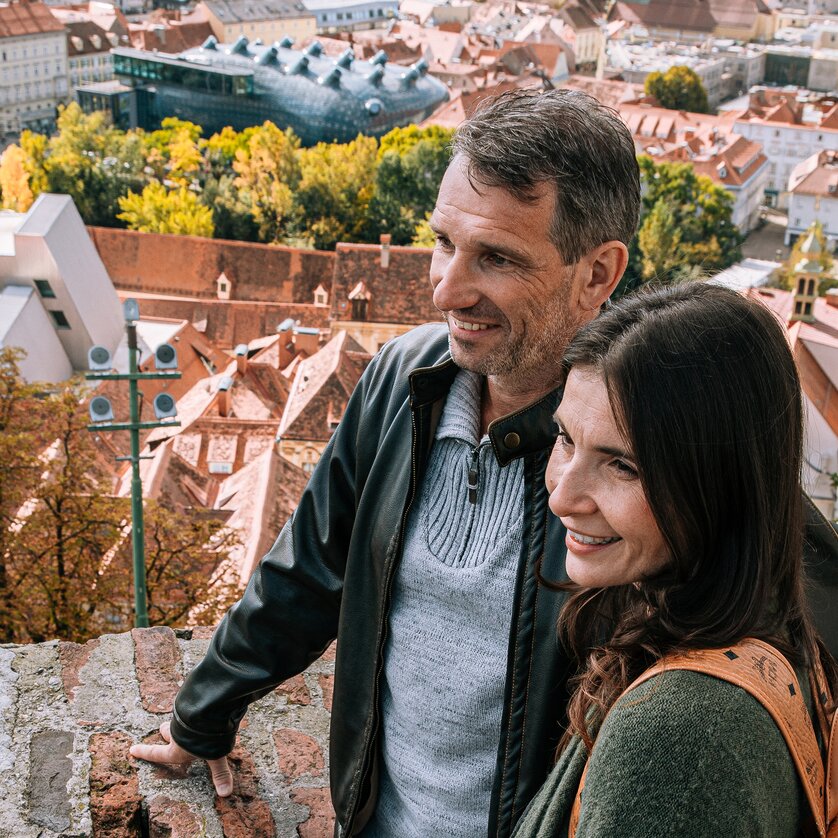 Discover the city's highlights
Splendid palazzi, pretty squares, hidden lanes and more
Once you have fuelled up for the day, you're ready to explore the city's highlights and find out more about Graz. For instance, how about joining a guided tour taking you to the city's hotspots such as the Styrian Armoury, Joanneum district or Neue Galerie? During a leisurely city stroll, you will quickly realise how much the City of Culture has to offer.
The top 10 sights for your to-do list: Don't miss these attractions!
Top 10 Sightseeing
Farmers' markets in Graz
A haven of Styrian delicacies
After a fascinating tour of the city, we recommend dropping by at one of the farmers' markets of Graz. For instance, from Monday to Saturday, the market at Kaiser-Josef-Platz offers Styrian delicacies ranging from scarlet runner beans to apples and Styria's blackish-green gold, pumpkin seed oil. The sight of homemade farmers' bread, bacon and cake is sure to make your mouth water and get you in the mood for lunch – and, of course, for taking home some of the treats on offer.
Farmers markets
Lunch at a partner restaurant of Graz - the culinary capital of delight
Enjoy regional specialities
Have a seat and enjoy freshly harvested delicacies! The "GenussHauptstadt" restaurants of Graz use regional, seasonal ingredients to prepare their dishes, ranging from fish to lamb, beef, venison and fresh salads. In autumn, you can even enjoy fresh truffles from the Leechwald region.
Seeing as you're on holiday, you might want to treat yourself to a glass of wine to go with your lunch. There is a vast choice of excellent wines from the famous nearby Wine Routes in western, southern and eastern Styria.
By the way: Check out our restaurant guide to discover the city's best fine-dining restaurants, bars and GenussHauptstadt partner restaurants!
Shopping in Graz
Hunting for bargains
There is an Austrian proverb that says that after a meal, you should either rest or take some exercise. In line with this saying, we recommend a shopping spree around Graz!
Culture lovers will find plenty of places to shop for pretty keepsakes of Graz. For instance, there are numerous design shops to be found in the creative district surrounding Lendplatz square. In the city centre well-known brands present the latest fashion in their shopping windows. In addition, you can also find a great selection of antiquities and typical souvenirs such as pumpkin seed oil there.
If you feel like a little break, we recommend one of the city's lovely parks and gardens, for instance at the most central one, Stadtpark. The green space in the heart of the city boasts a huge playground where the little ones can have fun while the grown-ups relax underneath a chestnut tree or on a park bench.
Adventures on and around Schlossberg hill
Ride up, swoosh down
There are many ways to climb Schlossberg hill in Graz – and each of them is a highlight in itself. The quickest way to the top is Schlossberg lift. The elevator's glass cabins offer you fascinating views of the mountain's interior. As the ride takes less than a minute, Schlossberg lift is the perfect choice for all those who are in a rush and want to see the impressive inside of the mountain.
Once you have reached the top, you can enjoy breathtaking views of the city's red tiled roofs – a sight during which it is easy to lose track of time. However, a look at the city's landmark sight, the Clock Tower, quickly tells you the time. But don't get confused by the clock's hands: The larger one marks the hours while the smaller one is for the minutes!   
For the way down, there's an action-packed alternative to taking the elevator: using "The Slide". The world's highest underground slide reaches speeds of up to 25 kilometres per hour.
Explore Graz in 48 hours
More time, more highlights
Graz boasts countless highlights for arts and culture lovers, pleasure-seekers and sports enthusiasts. Time simply flies by while exploring the city's hotspots. The more time you have, the better – for instance to fill them with our ideas for 48 hours in Graz.
 
Graz in 48 hours
Getting around Graz
On foot or by public transport
If you don't feel like walking and want to do something for the environment, we recommend making use of the city's public transport network. There are plenty of great offers, including the convenient 24-hour ticket which gives you unlimited use of all busses and trams within your purchased traffic zone.
Inspirational tips for your visit to the Capital of Delight