Clock Tower
But something isn't quite right here. What is odd about the face of the clock tower of Graz? A faulty city emblem? No way! Anyone taking a longer look will spot it readily; here time has a different priority. Hours count for more than minutes, and justifiably so, because the area beneath the clock tower is magical and, if you turn round and let your gaze wander over the gardens and city, you will also know why.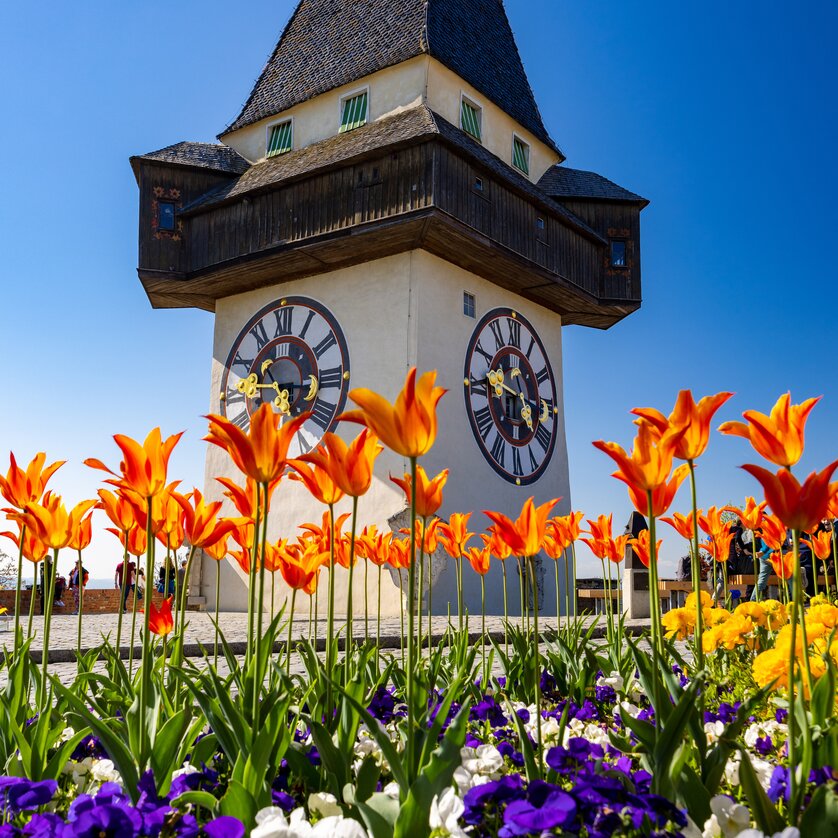 Details
The fortified medieval tower got its present shape around 1560. And its characteristic wooden gallery as a fire station. Three bells are ringing from the Clock Tower. Three coats of arms decorate the walls.
A tower on this spot of the hill was first mentioned in the 13th century. When the fortress was reconstructed in the middle of the 16th century, the tower was given its present shape. The hands on the huge clockfaces often confuse people. Is the clock out of order? No. The fact that originally there were only long hands for the hours which could be seen from the distance, and that those for the minutes were added only later caused the "swapping" of the hands. The clockworks, made by Michael Sylvester Funck in 1712, are still working but have been driven electronically since the middle of the 20th century.
When there was fire in the city the fire bell informed the fire brigade about it.
The fire bell (1645) is one of three bells still hanging on the outside of the Clock Tower. The oldest bell of Graz (1385) strikes the hours. The "Armesünderglocke" or "poor wretches bell" (around 1450) was ringing during executions. In later years it reminded revellers of the curfew, which earned it the title "Lumpenglocke" (rogues bell). At three corners of the tower there are coats of arms, formerly decorating gates and walls of the Schlossberg fortress: the Styrian Panther with the crown of the Duchy of Styria on his head (around 1570), the single eagle as the coat of arms of the later Emperor Ferdinand I (1552), and the double eagle with the initial letters of Maria Theresa (2nd half of 18th century).
In times of war the massive "Bürgerbastei" (burghers bastion) bearing the Clock Tower had to be defended by the residents of Graz, hence its name. Today it is a splendour of flowers and quite southern plants. And there are benches. To relax and to enjoy the grand view of the city and beyond.
By the way: Near the Clock Tower, some steps down the street a dog of stone is keeping watch. According to a legend, it was a dog's barking which in 1481 saved the emperor's daughter Kunigunde from being kidnapped by the Hungarian King Matthias Corvinus, whose marriage proposal had been rejected.
Address
Address
Schlossberg, 8010 Graz