sport and recreation

movement
Cross-country skiing centre Hebalm
Sports in a wonderful winter landscape on the Hebalm in Preitenegg.
The 1 km long "Seerunde" is equipped with floodlights. The trails are suitable throughout for skating as well as for the classic technique.
The Hebalm cross-country skiing centre offers freshly groomed parallel and skating tracks every day, leading through varied alpine and forest terrain at an altitude of 1400 metres.
The start and finish of the trail is directly at the cross-country centre at the Hebalmsee, where the cash desk and the rental service shop of the Feimuth family are also located.

A total of four cross-country trails are offered:

See Runde:
All beginnings are difficult, and this also applies to cross-country skiing. So that you don't overexert yourself and enjoy cross-country skiing right from the start, there is an easier trail for beginners. This can also be used for warming up.
Length: 1.0 km
Ascent: 20 hm
Difficulty: easy

Kampelekogel Round:
An ideal round for beginners without difficult ascents or descents. It starts in the area of the Malteser Chapel and can be perfectly complemented with the Hebalm loop.
Length: 3.0 km
Ascent: 49 hm
Difficulty: easy

Klug-Lift loop:
To get to the start of this trail, you first have to complete a large part of the Hebalm round and join the Kampelekogel round. Then, after a few hundred metres, turn left into the Klug-Lift Runde. When you reach the top station of the Klug-Lifte family ski area, you can enjoy a wonderful view.
Length: 1.4 km
Ascent: 40 hm
Difficulty: medium

Hebalm Round:
This trail demands a little more skill and endurance and is ideal for athletically ambitious runners and pleasure runners with a length of 5.1 km.
Length: 5,1 km
Ascent: 100 hm
Difficulty: medium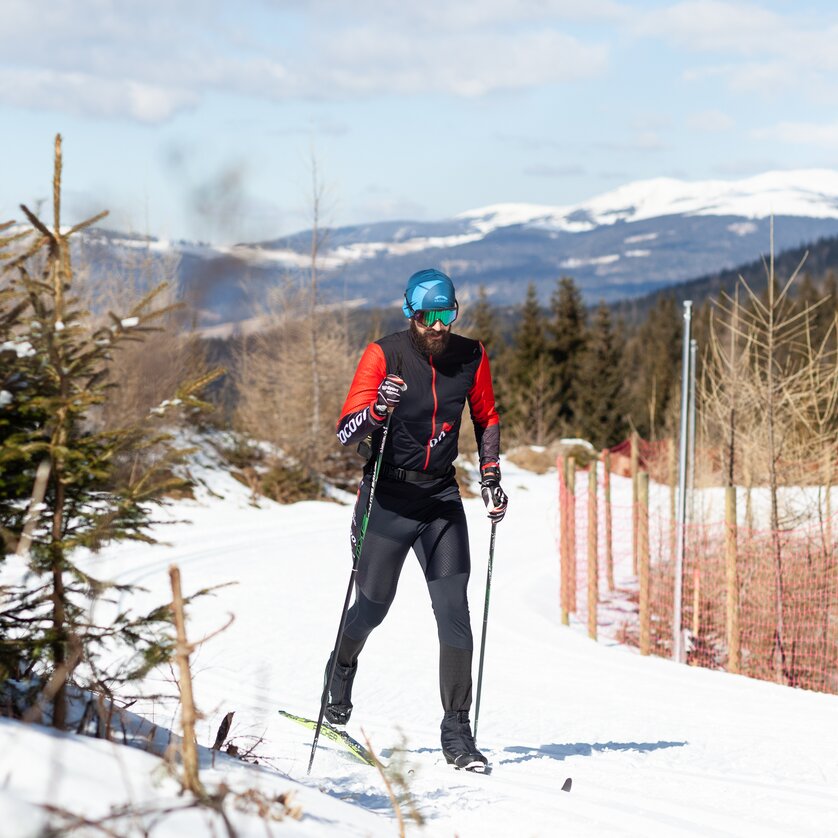 Address
Contact
Cross-country skiing centre Hebalm
Address
Pack 250a, 9451 Preitenegg