Opera House
Second largest opera house in Austria
Brandishing a sword for the Opera House. Next to the imposing white edifice on Ringstrasse street skirting Graz city centre, the "Lichtschwert" sculpture stands for the protection of human rights. At the same time, it stands in agitating contrast with the neighbouring Opera House and is proof of the city's cultural awareness. Formerly the city theatre, the Opera House itself is now a splendid stage for breathtaking productions in Graz ranging from musical theatre to ballet. It is part of the Emperor Route (Historic Theatres in Europe).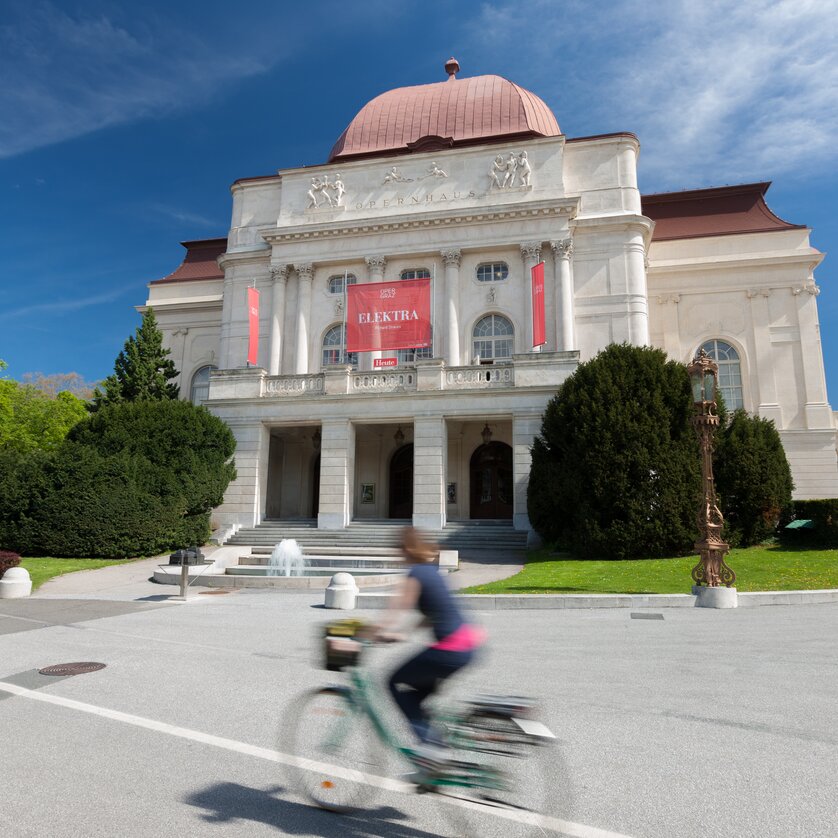 Details
Second largest opera house in Austria. Springboard for music careers. "Opera House of the Year" in 2001. Remarkable attributes for the theatre on the ring road.
Initially, today's opera house was the municipal theatre and did not exclusively serve music. So it was opened with Schiller's drama "Wilhelm Tell" on 16 September 1899 .At the request of the city council, the Viennese architects Fellner and Helmer, famous for their theatre projects, designed the building in the style of the Baroque master builder Johann Bernhard Fischer von Erlach. (He was born in Graz but did not erect a single building there.)
A bomb explosion in the Second World War resulted in the demolition of the original portico and a simplification of the façade. Inside, however, the spacious staircase and the auditorium with its boxes, the luxuriant, partly gilded stucco and the baroque-manner ceiling paintings have remained intact. In the mid-eighties, a very sensitve extension designed by Gunther Wawrik was added to the opera house.
Now a glazed bridge connects the stage area to the newly erected scene dock.
Not only the 1,800 members of the audience, which the auditorium seats, are impressed by the performances. In the theatre season of 2000/01, Graz Opera House showed the best performances in the German-speaking countries. That's what the 50 theatre critics concluded, when they selected Graz Opera House as "Opera House of the Year".
Among the great musicians who have worked at the opera house, especially composer Robert Stolz (director of music at the age of 20) and conductor Karl Böhm rose to fame. Both were also born in Graz.
Something fascinating about Graz - the interplay of modernism and tradition - is illustrated by the sculpture "light sword" next to the opera house. It was originally made for the festival "steirischer herbst" in 1992. To celebrate the 500th anniversary of the discovery of America, the opera "Amerika" by Roman Haubenstock-Ramati was performed in the opera house. Graz artist Hartmut Skerbisch was inspired by the libretto based on a text by Franz Kafka to create this "Statue of Liberty" with sword and globe. It is 54m high, exactly as its model in New York.
By the way: Even in the 19th century, economy was a great sponsor of the arts. It was the local savings bank which waived repayment of a loan and thus financed the entire theatre project.
Information on accessibility
Barrier-free holidays in Graz
Acousticly impaired/deaf persons
Persons with learning difficulties
Persons in wheelchairs with support
People with reduced mobility
Visually impaired persons
Address
Address
Kaiser-Josef-Platz 10, 8010 Graz