Kaiser-Josef-Market
The largest farmers market in Graz.
Behind the opera house, Kaiser-Josef-Platz square is home to the largest farmers market in Graz.
Even before the sun comes up over the famous tiled roofs of Graz, its farmers' markets are in full swing. The huge number of farmers in the region (350 in Graz alone) fill their market stalls with wares picked just hours beforehand. It doesn't get much fresher than that!
Opening hours:
Mon - Sat, 06.00 am to 01.00 pm (closed on Sunday and public holidays!)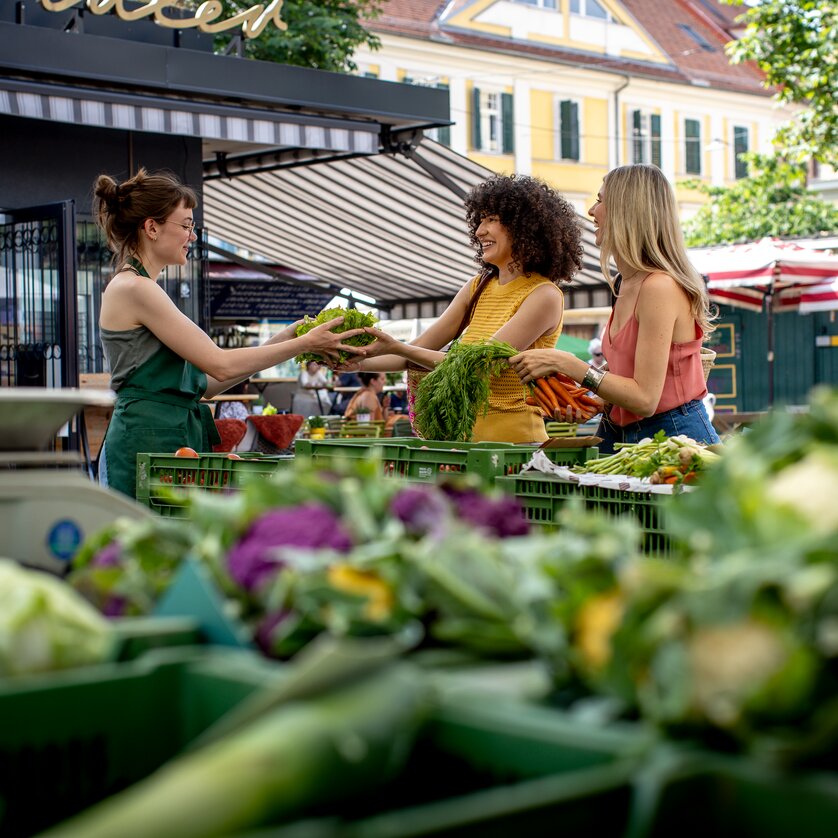 Details
What originally was called Holzmarktplatz (wood market square) was renamed Kaiser-Josef-Platz in the 19th century. In gratefulness to the emperor who had granted religious freedom to the Protestants. The first Protestant praying room installed in Graz after the Edict of Tolerance had been issued was also built in this square. It is today's Heilandskirche.
But Graz people rather associate Kaiser-Josef-Platz with culinary delights, with typically Styrian specialities offered in this square by the farmers every day. Much of the produce is organically grown. Or/and has a special tradition in Styria: Käferbohnen (scarlet runner beans), apples and, of course, pumpkin-seed oil.
Buy it directly from the farmer, and you will get the best quality. He needs 30-35 pumpkins, has to take out the seed, dry and grind it, heat it with little water and then press this dough in the "Ölkuh" (oil cow) to get one litre of the dark gold. Pumpkin-seed oil is ideal for salads. But Styrians are inventive and enjoy the oil in different variations, even with vanilla ice-cream.
While nearly 90% of the Austrian pumpkins are grown in Styria, the percentage for apples is nearly 80%. On the farmers' market you will not only find international varieties but increasingly the old aromatic local ones, such as Kronprinz Rudolf, Schafnase, or Ilzer Rose.
Homemade farmer's bread, bacon and smoked sausages, homemade cakes, fresh flowers, even lovingly raised seedlings from the farmer's garden. Thus the "townies" can harvest their own tomatoes on the balcony.
By the way: The farmers' market is not the right thing for late risers. According to the market regulations, the stalls must be closed by 1 pm. On Sundays the farmers do not come at al.
Address
Contact
Kaiser-Josef-Market
Address
Kaiser Josef Platz, 8010 Graz