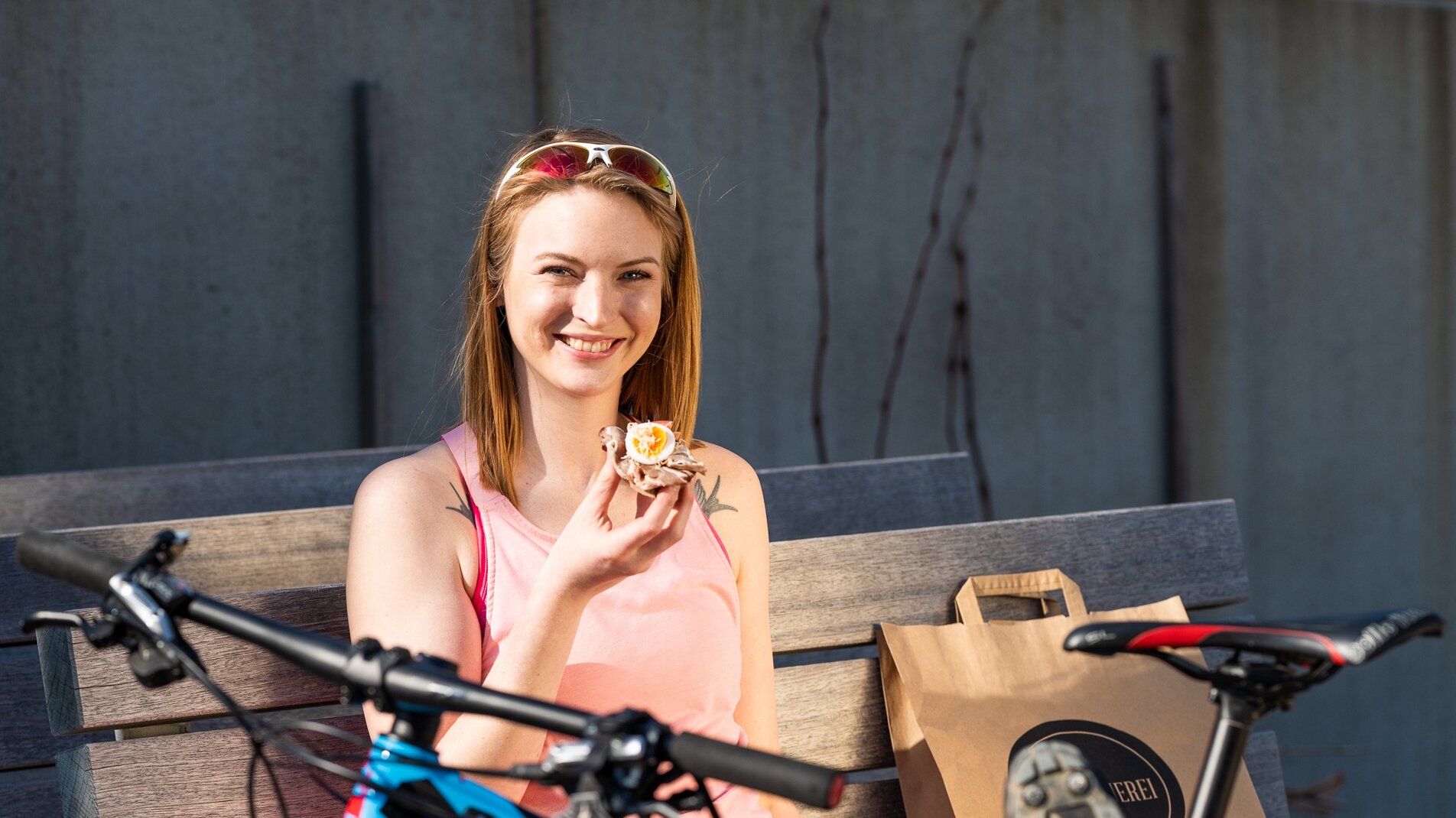 Delicacy Tour - Laßnitzhöhe
Take a deep breath and pedal away! Cycling tours in the best fresh forest air do the body and soul good! There are also many opportunities to taste regional delicacies and products, so positive effects are guaranteed – just as you would expect in a climatic health resort, where medicine and health are at home.
The cycle route leads downhill into the Tomsche-Tal valley and past fruit farms and farmhouses via Rastbühel to Hönigtal. Right by the small church we turn off onto Kirchweg and then Höhenstraße with beautiful views down to the Ragnitztal valley. The route continues on cycle lanes and then along the Graz main cycle route 6 on cycle paths all the way to the old town of Graz (UNESCO World Heritage Site) and on to the R2 Mur Cycling Path.
We follow this to the south through the Augarten and along the newly designed banks of the Mur to the junction of the R49 Mostwärtsradweg back to Laßnitzhöhe.
If you still need an energy boost after your bike tour, you should park your bike for a bit and get it on the sebastian RELOADED® adventure trail (7.3 km). In this exercise adventure for the whole family, you can take on your "inner couch potato", "feel strong enough to take on anything" or even scream to your heart's content.
After the tour you will certainly have earned your  richly deserved treat in one of the many excellent establishments in the climatic health resort of Laßnitzhöhe, because this beautiful tour is also a bit demanding, it goes up and down again and again – just like life itself!
Season
January
February
March
April
May
June
July
August
September
October
November
December
Facts
Length

Duration

Climbing

Climb down

Lowest level

Highest point
More
Car: A2 exit Laßnitzhöhe
Bike: the bike tour leads through Graz center (R2 Murradweg)
Laßnitzhöhe - Tomsche Tal - Rastbühel - Hönigtal - Ragnitz (HR6) - Graz center (R2 Murradweg) - Graz Murfeld (R49 Mostwärtsradweg) - Raaba - Pachern - Krachelberg - Laßnitzhöhe.
Route leads via Graz center (R2 Murradweg)
Cycle paths, side streets, cycle lanes, suitable for trekking bike and e-bike
As a little vitamin boost at the beginning, we recommend the nature experience snack garden right by the start and finish point in the centre of Laßnitzhöhe.
Train connection S3 from Graz and Gleisdorf, Laßnitzhöhe train station
at Laßnitzhöhe train station