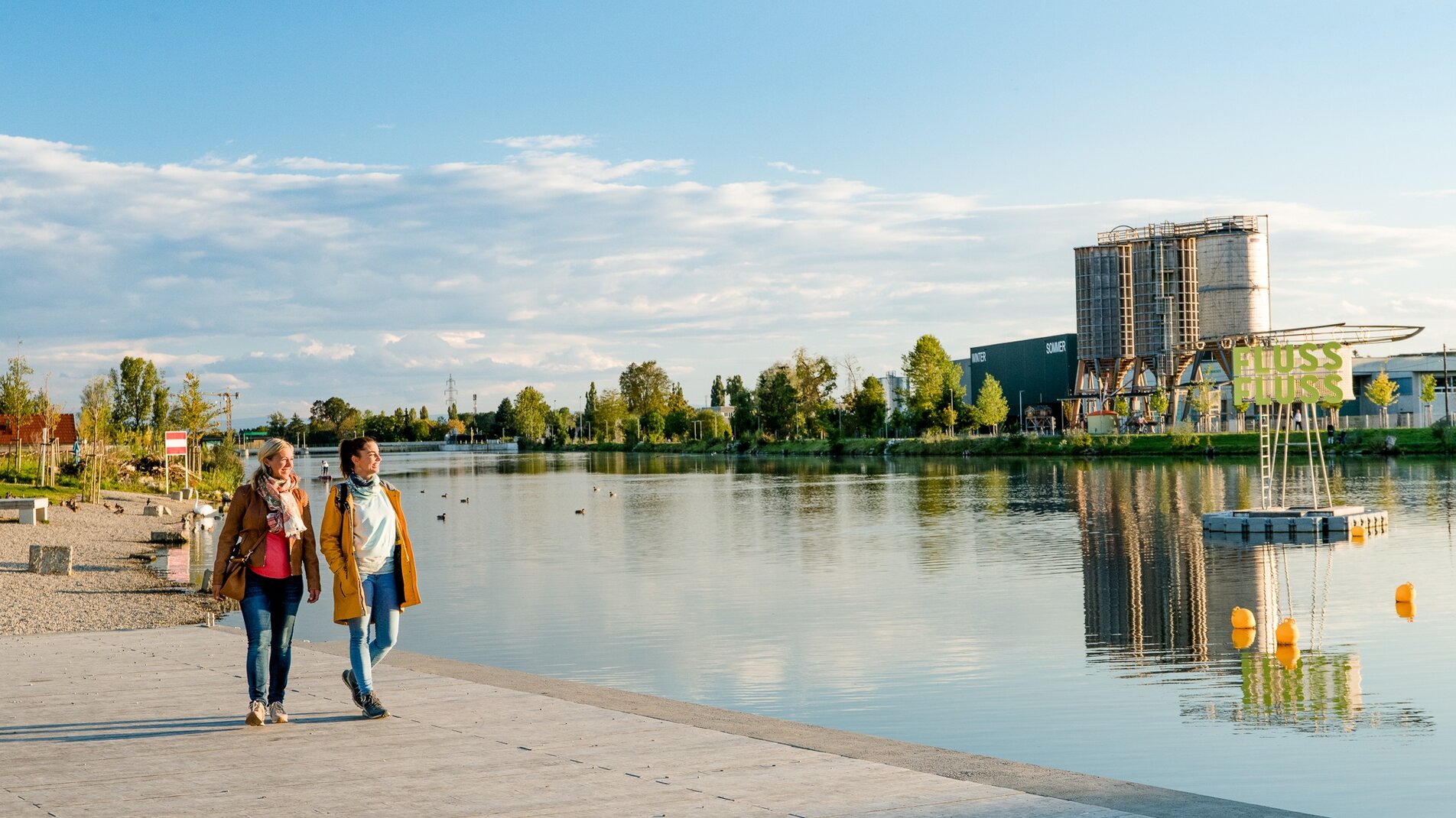 Off to the south of Graz
If you follow the course of the river to the south, you will soon find yourself in a green oasis, which offers a welcome and peaceful change from hectic city life
Only a few steps away from the main shopping street of Graz - Herrengasse - there is a beautiful cycling and walking path. If you follow the river Mur to the south, you will reach the Augarten Bay, which was opened in 2020. The flat banks with seating and sunbathing furniture offer an addition to the play and recreational opportunities in the Graz urban area. This recreational oasis with direct access to the water offers space for the whole family to linger and relax, for children to play, for sports, reading, meeting, etc.
Even further south, another stop is recommended at the Grünanger recreational area. Here the Puchsteg crosses the Mur and thus connects the western and eastern banks of the Mur. The facility invites you to linger comfortably directly at the water's edge. The Seifenfabrik event center is located right next door.
Season
January
February
March
April
May
June
July
August
September
October
November
December
Facts
Length

Duration

Climbing

Climb down

Lowest level

Highest point
More
It is recommended to arrive by public transport!
Arrival by car: Via the A2 or A9 freeway you can get directly to the provincial capital Graz.
You start the leisurely walk from the Graz Region Tourist Information offi ce and cross Landhaushof towards Schmiedgasse. Right by Andreas-Hofer-Platz you will come across the cycle path/footpath along the Mur. Here you turn left or downstream and follow the path straight ahead. Soon you reach the Augarten park and then the Augartenbad outdoor pool. Just after Augartenbad, turn right over the Berta von Suttner pedestrian bridge. Now our walk continues south along the right bank of the river. After a while you reach Puchsteg, a wooden bridge over the Mur that leads to the Grünanger recreational area. This facility invites you to while away the time in comfort right by the water. Now turn back towards the city centre and walk upstream along the river. Pass behind the "Seifenfabrik" venue, follow the signs for the R2 cycle path. The path now leads away from the river through residential areas until you fi nally reach the Mur again. You continue north and very soon reach Augartenbad and Augarten again. Augartenbucht was opened here in 2020, a local recreational area for all Graz residents, which off ers direct access to the Mur. If you get hungry or thirsty from walking, a visit to "Frankowitsch im Augarten" is a good idea. From Augarten, you can also walk to Graz city centre in just a few minutes.
Picnic in the Augarten bay or the Grünanger recreation area; Augarten swimming pool
Getting there:
no public transport necessary
Getting back: no public transport necessary
Essen & Trinken:
Sehen & Erleben
Veranstaltungszentrum Seifenfabrik
Grünanger