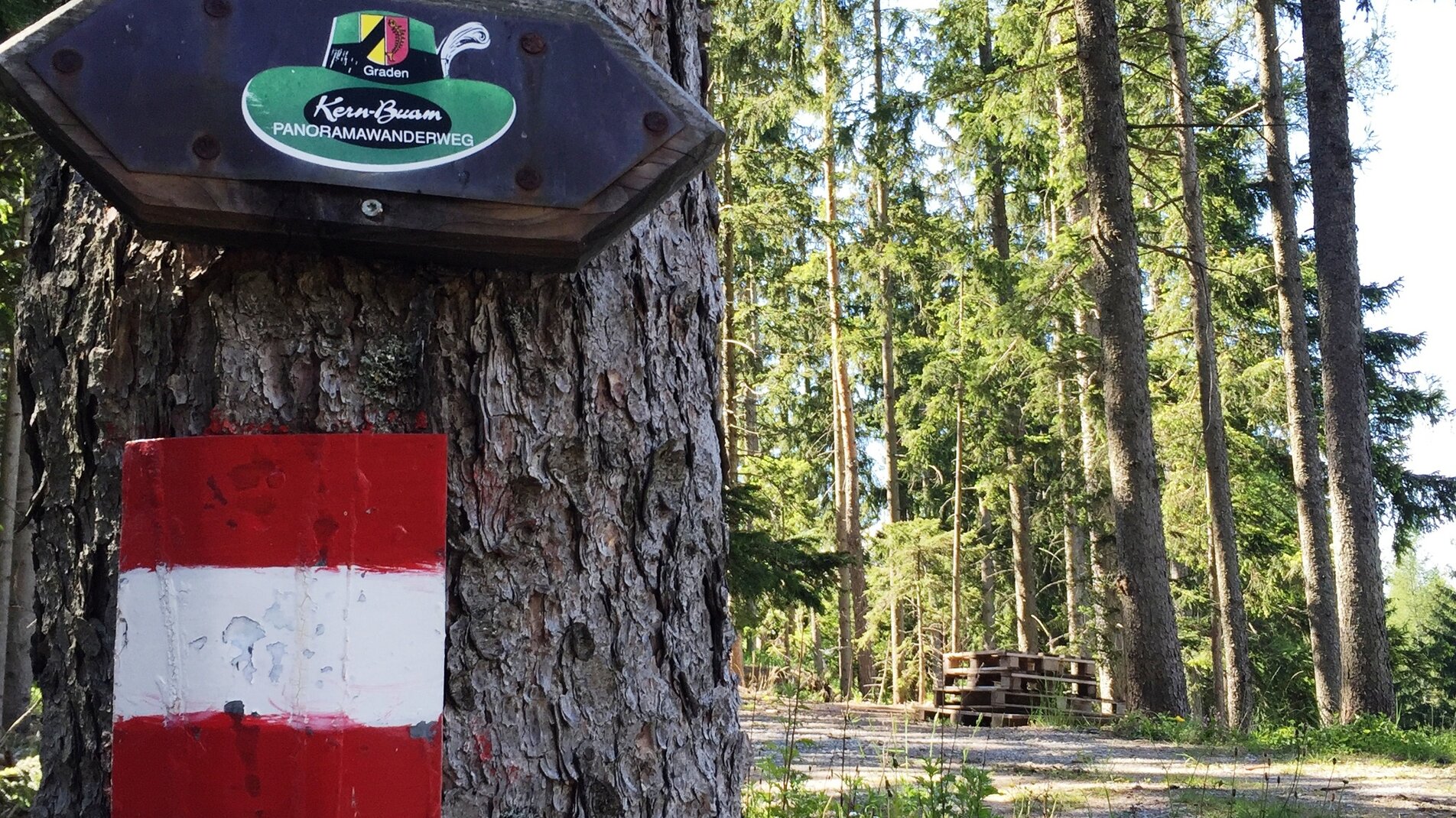 KERN-BUAM panoramic hike
This KERN-BUAM panoramic hiking trail leads us around the mountain village of Graden and is a tribute to the legendary musicians the "Kern Buam", who were among the true musical greats of their time.
Graden near Köflach is an idyllic mountain village and lies between 697 - 1362m above sea level. Local recreation and idyll are very important here. In addition, this is the home of the world-famous Kern-Buam.
The Kern-Buam were the pioneers of Austrian folk music. The fame of this music group knew no bounds and the group received many awards for their work.
On the occasion of the 55th anniversary of the Kern-Buam, the municipal council of Graden decided to establish the "Kern-Buam" Panorama-Wanderweg", which was ceremoniously opened on June 8, 2003.
The KERN-BUAM panorama hiking trail: shows many variations, as we can always hike back to the village from the individual waypoints. Here you can find the three most popular variants:
KERN-BUAM Panorama Hiking Trail: 16.4 km
KERN-BUAM Panorama Hiking Trail: Variant A: 10.2 km
KERN-BUAM Panorama Hiking Trail: Variant B: 10.7 km
Season
January
February
March
April
May
June
July
August
September
October
November
December
Facts
Length

Duration

Climbing

Climb down

Lowest level

Highest point
More
A2 Abfahrt Mooskirchen nehmen
Beim Kreisverkehr B70 die 3. Ausfahrt Richtung Köflach nehmen
Weiter bis nach Köflach fahren (ca. 20 km)
Bei der Kreuzung mit der B77 rechts Richtung Gaberl abbiegen
Von hier der Beschilderung Richtung Graden folgen
Direkt am Dorfplatz in Graden startet unsere Wanderung. Wir gehen ein kleines Stück entlang der Landesstraße Richtung Eckwirt. Wir folgen der Beschilderung und biegen kurz darauf rechts ab, gehen ein kurzes Stück am Waldrand entlang und marschieren dann der Markierung folgend durch den Wald. Ab hier beginnt der Weg mäßig zu steigen, da wir aber durch den kühlen Wald wandern, kommen wir gut voran.
Nach rund 2km haben wir den Eckwirt erreicht, hier können wir Rast machen oder munter weiter marschieren. Es geht weiter durch den Wald und auch der Wegverlauf angenehm steigend. Nach kurzer Zeit wird der Weg wieder steiler. Sobald wir aber den Wald verlassen, sehen wir ein schönes Almpanorama gleichzeitig geht es auch wieder gemütlicher dahin. Wir erreichen einen Bauernhof mit einer schönen Hofkapelle. Genießen wir Ausblick und Landschaft sowie auch die Zeit zum Ausrasten, denn schon bald geht es wieder bergauf.
Nach ca. 5,8km vom Ausgangspunkt aus erreichen wir unser nächstes Zwischenziel, die Schoberkeusche. Hier sollten wir uns die Zeit nehmen, um den wunderbaren Ausblick zu genießen. Diese Einkehrmöglichkeit ist zurzeit geschlossen. Wanderer können gegen Bezahlung Getränke aus dem Brunnen nehmen. Gleichzeitig haben wir den höchsten Punkt unserer Wanderung erreicht.
Wandern wir weiter, kommen wir zuerst durch ein Waldstück, danach erreichen wir wieder eine Almwiese, worauf wieder ein Waldstück folgt. Es geht zügig voran und wir gehen nochmals ein kurzes Stück bergauf, bevor wir den Jägerwirt nach insgesamt 8,1km erreichen.
Auch hier genießen wir eine schöne Aussicht, außerdem können wir hier kulinarische Köstlichkeiten genießen.
Weiter geht's dann geradeaus auf der Asphaltstraße in Richtung "Wolfsleiten" direkt zum Bergwirt. Der Weg verläuft hier leicht bis mäßig bergab, wir genießen die Aussicht und kommen rasch voran. Beim Bergwirt können wir wieder Rast mache.
Weiter geht's dann noch ein kurzes Stück auf der Asphaltstraße, danach biegen wir scharf links in einen Waldweg ein. Wir gehen ein kurzes Stück durch den Wald und kommen wieder zu einer befestigten Straße. Wir biegen links ab und gehen nun in Richtung Gradnerhof weiter. Bei der nächsten Weggabelung halten wir uns rechts und gehen bis zum Ende des Weges. Danach führt unser Wanderweg rechts über Wiesen und durch Wälder. Es geht hier steil bergab. Wir erreichen schließlich wieder den befestigten Weg und sehen auch schon die Pfarrkirche Graden vor uns.
Wir folgen dem Kirchturm und erreichen so nach insgesamt 16,4km wieder unseren Ausgangspunkt.
Gedenksteine der Kern-Buam, Kern-Buam-Museum in Voitsberg (liegt nicht am Weg)
Mit den Regionalzügen der GKB zum Bahnhof Köflach. >>Infos zum Fahrplan
Dannach benötigen wir ein Taxi, um die knappe 10km nach Graden zurückzulegen.
Es stehen ausreichend Parkplätze im Ort zur Verfügung.
Tourismusverband Region Graz
Messeplatz 1/Messeturm
8010 Graz
T +43 316 8075-0