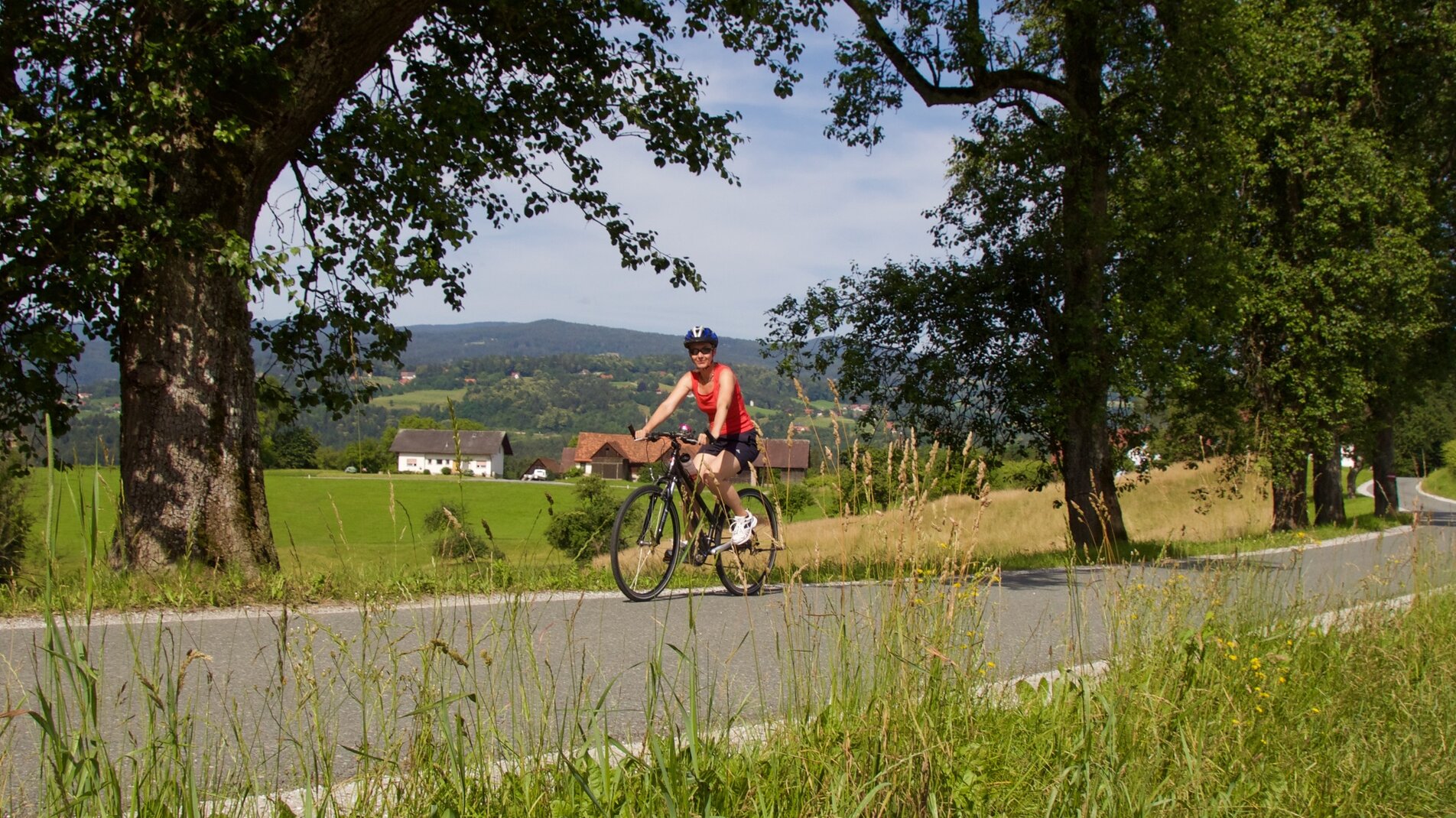 3 Market Tour
Experience the beautiful market towns of Stallhofen, Moorkirchen and Ligist on this charming tour through fruit growing and Schilcher wine growing areas.  Pass Reiteregg castle where you can admire the riding stables, paddock and yard. Further along the path you pass Altenberg and Tausendlust castles.
Wie alle Radtouren in der Lipizzanerheimat ist die Drei-Märkte-Tour durchgehend beschildert. Idealer Startpunkt ist der Bahnhof in Krottendorf bei Ligist, bestens angebunden an die S7, Fahrradmitnahme im Zug kostenlos! Auch über die Landesradwege R14 Kainachtal und über den nahen R56 Liebochtalradweg ist diese Tour gut erreichbar. Als Fahrtrichtung wird "im Uhrzeigersinn" empfohlen. Der Anstieg auf den Muggauberg ist auch schon die höchste Erhebung auf dieser Runde, bevor es in die erste der drei Marktgemeinden nach Stallhofen geht. Nach Besichtigung der Pfarrkirche und einer ersten Pause wird schwungvoll weiter geradelt. Entlang der abwechslungsreichen Strecke passiert man immer wieder Schlösser und Herrenhäuser, Wein und Obstgärten genauso wie beliebte Buschenschänken und Gasthäuser. In Mooskirchen laden Cafés und eine Feindestillerie zu einer Einkehrpause ein, bevor es über sanfte Hügel zurück in den geschichtsträchtigen Ort Ligist am Beginn der Schilcherweinstrasse geht. Nach einer wohlverdinenten der Brettljause und Weinverkostung rollt man gemütlich bergab und kann ab Krottendorf zufrieden die Heim- oder Weiterreise mit der S-Bahn antreten.
Season
January
February
March
April
May
June
July
August
September
October
November
December
Facts
Length

Duration

Climbing

Climb down

Lowest level

Highest point
More
Strecke: Krottendorf – Klein- Gaisfeld– Muggauberg – Stallhofen – Bernau – Neudorf – Alt-Reiteregg – Schadendorfberg – Mooskirchen – Fluttendorf – Kniezenberg –Rauchegg – Grabenwarth – Ligist
Beschaffenheit: Nebenstraßen, Radfahrstreifen, Asphalt
durchgehend beschildert
In Ligist sollte sollte man sich ein wenig Zeit nehmen, denn es gibt einiges zu entdecken: eine Burgruine, Ausgrabungen aus der Keltenzeit und wie es sich für eine Weingegend gehört, weithin bekannte Buschenschänken und Gastbetriebe.
S-Bahnverbindung S7 Graz – Köflach, Bahnhof Krottendorf-Ligist (Fahrradmitnahme kostenlos)
P&R Bahnhof Krottendorf-Ligist
Radtour Beschreibung mit Gastronomie und Sehenswürdigkeiten (PDF):