Top Event
Long Table of Graz
08/24/2024, from 16.30 to 22.00

Culinary Delights & Entertainment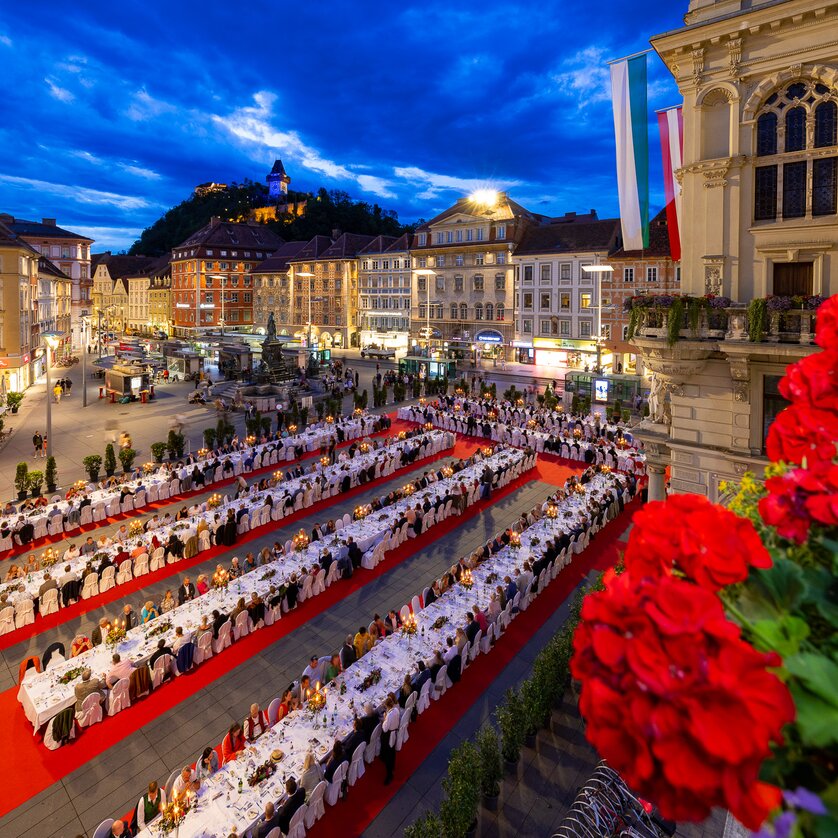 Details
On August 24th 2024, the historic centre of Graz will turn into a giant open air restaurant. Just imagine sitting down at a festively decorated table and enjoying a delicious dinner with matching wines and musical entertainment, with another 750 guests for company in the heart of the old town. The evening starts at the atmospheric Landhaushof, where you will enjoy a commentated beer and wine tasting accompanied by little amuse bouches.
You will then be shown to your seat at a beautifully decorated Long Table. The Chefs of the participating Restaurants are planning a five course dinner, and their wine-chefs will guide you through an exclusive set of accompanying wines. Enjoy the dinner and the music. It will be, without doubt, a completely unique experience.
PROGRAMME
5 pm: Starts with opening of the event in Landhaushof courtyard (entry to Landhaushof from 4.30 pm)
Beer and wine tasting, aperitif along with the first three starters and Vulcano-ham-tasting.
6 pm: Take your places at the Long Table in the area from Schmiedgasse to Hauptplatz square. There will be a five course set meal with matching refreshments and a sweet suprise from "Zotter" served at the Long Table. The dishes will be prepared by cooks from the partner companies of the Capital of Delight Graz project.

Unfortunately, due to the current challenges in gastronomy, there will be no Long Table in 2023. It is planned that the Long Table will take place again in 2024. Tickets are expected to be available from November 2023!
Picture gallery
The event in pictures
Location
Contact
Hauptplatz & Town Hall
Address
Hauptplatz 1, 8010 Graz
Organizer
Contact
Tourismus Information Graz Region
Address
Herrengasse 16, 8010 Graz