Painted House & Herzogshof
A wall-tattoo on Herrengasse street? Sure! On the façade of the Herzoghof building in the centre of Graz, Greek and Roman Gods engage in a rendez-vous. The building was first painted as early as 1600. The Baroque painter Johann Mayer applied the 'divine' frescos in 1742, since which time it has been known as the 'painted house'. If you take a moment to immerse yourself in the images, you enjoy an intense sense of submersion right there in the middle of the urban hustle and bustle.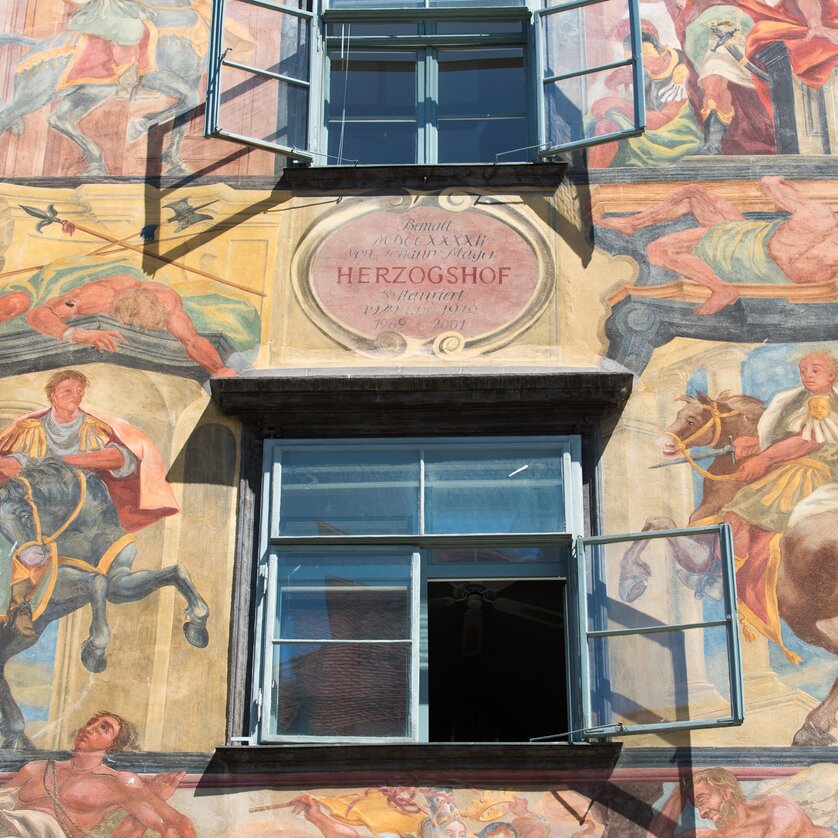 Details
Up to the second half of the 15th century, the Habsburgs carried out their official business as princes of Styria in this house. The manager of the building was released from paying any taxes for putting up the "prince's chair".
Herzogshof was first mentioned in 1360. It was in this house that the Dukes of Styria gave their subjects land in fee. When the Burg in Graz was completed soon after 1450, the new building was used for that ceremony. From the year 1600 onwards, a brother of the then Styrian prince and future emperor Ferdinand II lived in the house. It was at that time that it was first painted. By none other than Ferdinand's court painter and future architect of the Mausoleum, Giovanni Pietro de Pomis.
The house often changed hands until it passed into the hands of a moneychanger. Franz von Lathurner commissioned the artist Johann Mayer from Vorau to fresco the façade anew. Nothing has remained of de Pomis' original painting.
In the course of time, the identity of the figures depicted on the façade fell into oblivion. Just a few years ago they could be identified as Greco-Roman gods. The bottom zone with the popular gods Bacchus (god of wine), Vulcan (god of craftsmen) and Vesta (goddess of home) is closest to the people. Above them, in the hierarchy of gods and on the façade, are Apollo (god of light), Jupiter (king of gods) and Pluto (god of the underworld). The realm of gods is complemented by Mercury (god of merchants and travellers), Mars (god of war), Minerva (goddess of war and the arts), and Aesculapius (god of medicine) in the top row. Heroes of Greek and Roman mythology are also part of the programme.
With its frescos covering more than 220m², i.e. the whole façade, Gemaltes Haus is unique in Austria.
By the way: In 1382 a delegation from Trieste arrived at Herzogshof in Graz. The people of Trieste turned to the Habsburgs for protection - in order to escape an occupation by Venice. Till the end of the First World War, Trieste was to remain part of the Habsburg empire.
Address
Address
Herrengasse 3, 8010 Graz