Hofbäckerei Edegger-Tax
In the Hofgasse, you cannot miss a splendid wooden shop-façade – crowned with a gilded doubleheaded eagle. This is the Edegger-Tax bakery, where you can sample exquisite confectionery from the imperial era such as their "Sissibusserl" or "Kaiserzwieback" biscuits.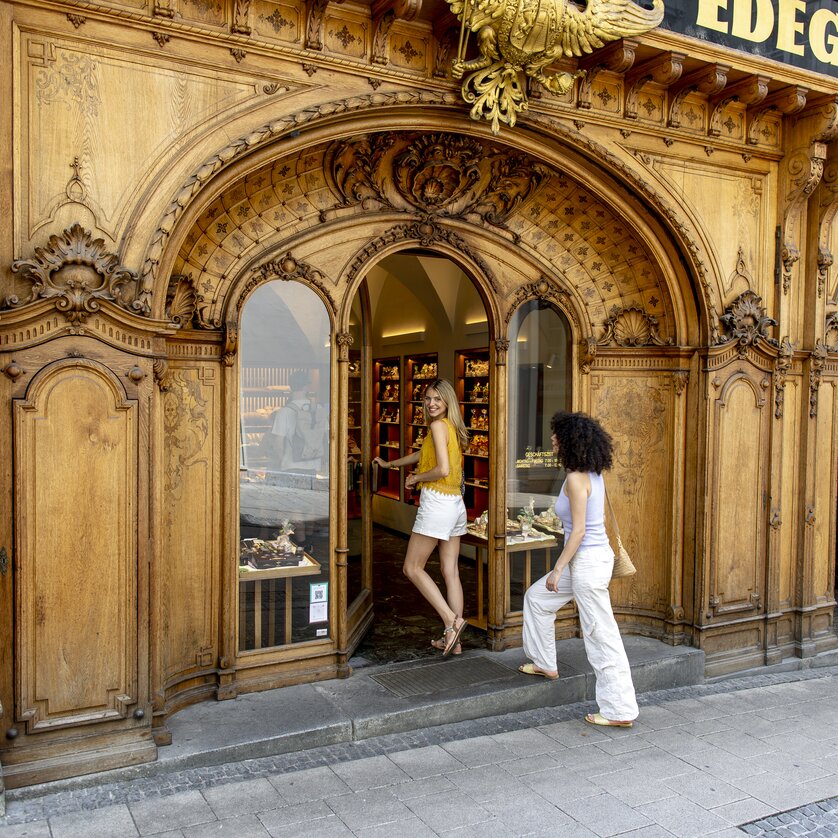 Details
In former times the Edegger-Tax bakery was located at Sporgasse 15 - near today's Stiegenkirche. It was first mentioned in 1569, though the building probably dated back to the 14th century.
In 1787 Mathias Tax bought the bakery and in 1880 Franz Tax III moved it to its current location and made it a prestigious bakery. During the visit of Emperor Franz Joseph to Graz in 1883, the bakery supplied the royal court. Due to the quality of its products, the bakery received an Imperial and Royal Warrant of Appointment in 1888. The carved wooden shop portal was made by the carpenter Anton Irschik from Graz in 1896. In 1940s Franz Edegger married Herta Tax and they ran the bakery together. After that, Erich Edegger and his wife Walheide continued the tradition of the bakery. Today the company is run by his son Robert Edegger and his wife Brigitte.
The product range includes traditional bakery products like "Sissi-Busserl" and "Kaiserzwieback" biscuits.
Address
Contact
Hofbäckerei Edegger-Tax
Address
Hofgasse 6, 8010 Graz