Abenteuer Erzberg
Europe's most modern open-pit mine to experience up close. From Graz you can reach the Erzberg by car in about 1.5 hours.
Four different tours are offered to visitors by Abenteuer Erzberg from May to October:
Visitors ride the 1217-HP Hauly along the levels of the ore mountain and can watch the huge heavy-duty trucks and wheel loaders at work. In one hour, you can learn a lot of interesting facts about ore mining on the surface and the everyday life of the miners.
On Thursdays from May to October, guests can experience ore mining up close - because it gets loud. They are taken directly to the blasting site by Hauly and experience how up to 80,000 tons of ore and rock are blasted out of the mountain.
The "Katl", a former crew train, takes visitors to the heart of the Erzberg, to the show mine. There begins a tour through the underground labyrinth, where several stations show the hard work of the miners of former times.
Back from the show mine, the open-air exhibition at Oswaldirücken with old construction machines and modern art objects offers further fascinating insights into mining.
Today, Erzberg is not only the most modern active mining operation in Central Europe, it is also the setting for many exciting and interesting experiences and adventures.
No wonder, then, that the "Styrian loaf of bread", as the Erzberg is also called, inspires tens of thousands of visitors every year. As the "largest pyramid in the world", Erzberg has long been known far beyond the borders of Austria.
Tour duration: 1 - 4,5 hours Prices starting from: € 20,00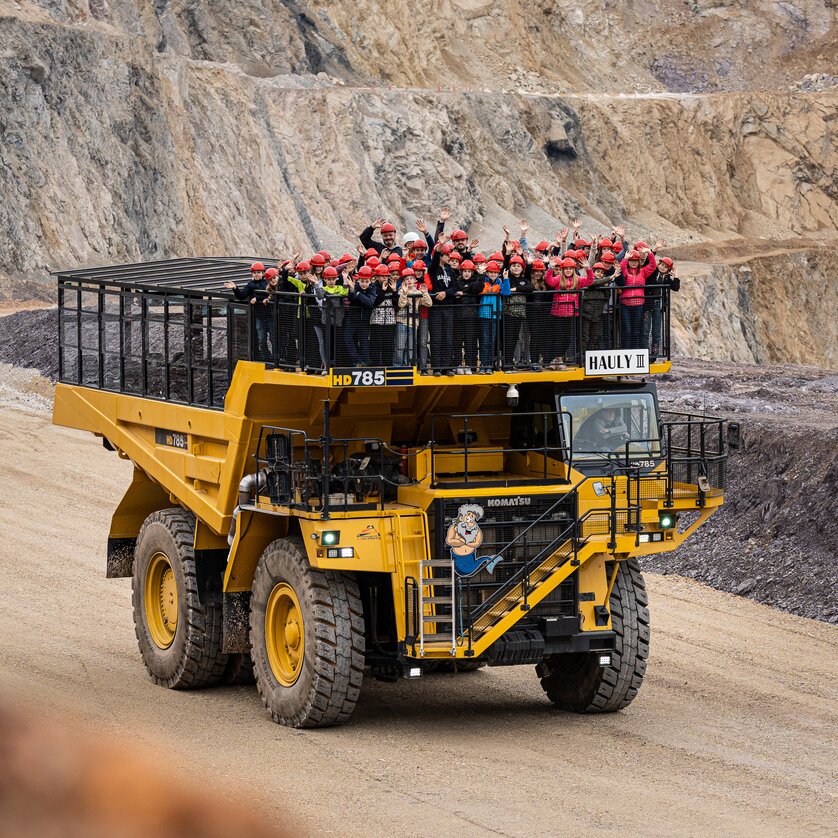 Address
Contact
Abenteuer Erzberg
Address
Vordernberger Straße 55, 8790 Eisenerz