"Aufsteirern"-Christmas market on Schlossberg hill
11/18/ - 11/20/2022

11/25/ - 11/27/2022

12/02/ - 12/04/2022

12/08/ - 12/11/2022

12/16/ - 12/18/2022

Christmas market, Christmas
Friday: 12 pm - 9 pm I Saturday: 10 am - 9 pm I Sunday 10 am - 8 pm I Special opening day: Thursday, 08.12.2022: 12 pm - 8 pm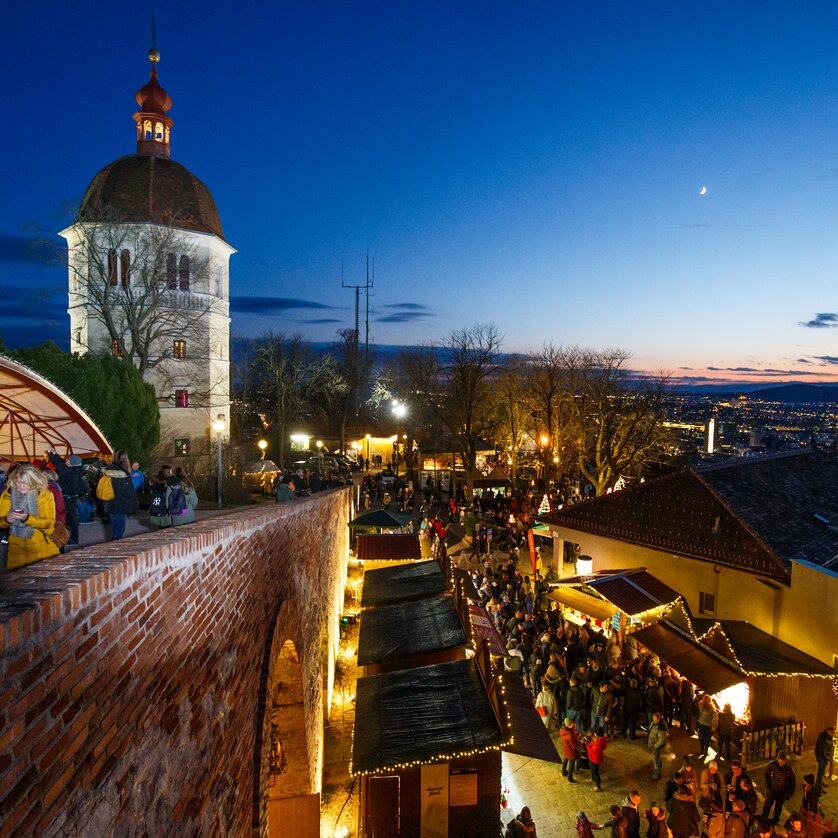 Details
"Aufsteirern"-Christmas market on Schlossberg hill:
Grazer Schloßberg | Kasematten | Glockenturm Liesl | Art-Sat Fläche
Up above the roofs of Graz on five weekends you'll encounter culinary products and wonderful handicrafts from Styria. The Aufsteirern Christmas market swaddles Schlossberg hill in contemplative cheer, well away from the hustle and bustle of the city centre.
The Liesl bell tower is also full of gorgeous surprises, enchanting not only the children with its festive atmosphere.
Via the Schlossbergbahn funicular you can go straight to the Aufsteirern Christmas world.
Opening hours:
18.11. - 18.12.2022, Friday to Sunday
Friday: 12 pm - 9 pm I Saturday: 10 am - 9 pm I Sunday 10 am - 8 pm
Special opening day: 08.12.2022, 12 pm - 8 pm
Location
Address
Am Schlossberg, 8010 Graz
Organizer
Contact
Holding Graz - Citymanagement
Address
Andreas-Hofer-Platz 15, 8010 Graz