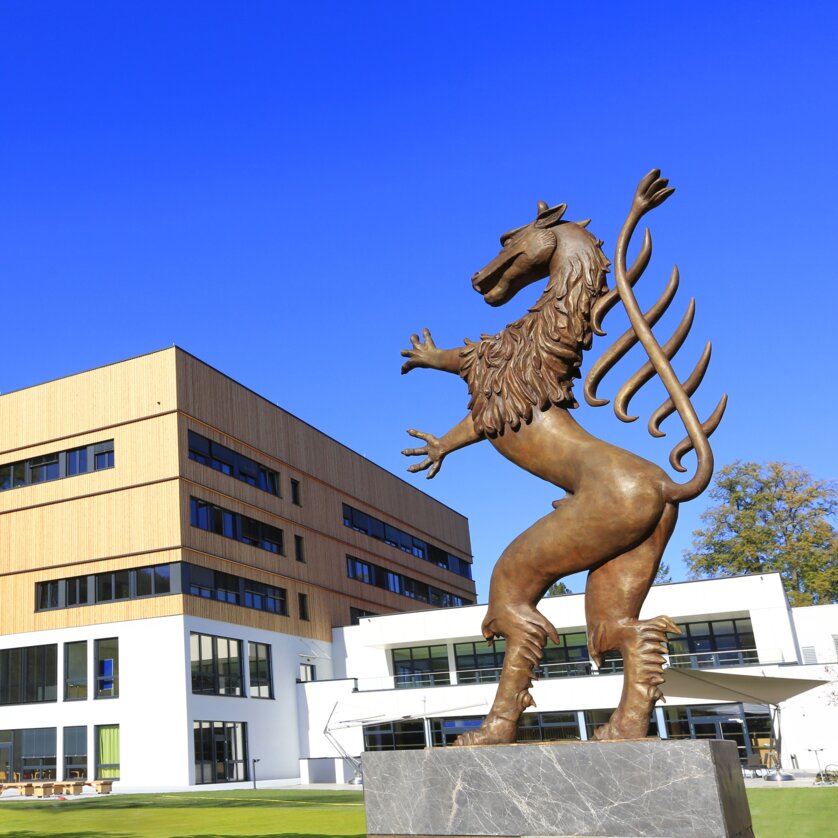 Steiermarkhof - train. meet. celebrate. stay. surrounded by greenery
In a peaceful setting on the west side of Graz, Steiermarkhof is a manifestly versatile training, conference and cultural centre with more than 3000 m² of space for events and an outdoor green area covering 10,000 m². With 20 up-to-date meeting rooms, a large ballroom for 400 people and a restaurant featuring seating for 240 and regional, seasonal cuisine, guests are invited to train.meet.stay.celebrate among the greenery. The 66 new and high-value hotel rooms will be available from September 2024.
Take a virtual tour of the entire Steiermarkhof here.

train surrounded by greenery.
As the training, conference and cultural centre of the National Chamber of Agriculture and Forestry in Styria, training is at the focus of what we offer. In our training magazine we offer courses and events in the areas of personal development & literature, health & nutrition, creative design as well as art & culture. All year round we stage series of exhibitions in our 3 in-house galleries.

meet & celebrate surrounded by greenery.
Covering our proprietary training work and more besides, we offer guest organisers facilities for seminars, workshops, meetings and conferences. At the heart of Steiermarkhof is the Steiermarksaal hall (354 m²), offering capacity for events with up to 400 people. Also serving as versatile venues are Grimming, our second largest hall at 164 m², and numerous other air-conditioned meeting rooms from 22 to 95 m².

One of the new Steiermarkhof's highlights is the surrounding greenery covering 10,000 m², with plenty of inviting places to linger. Available for team-building and exercises in skill is our Aktivgarten, with facilities such as the team seesaw, plank race, slack line and spider's web. The focus here is on the shared experience, strategic thinking and a measure of skill.
The active garden is available from September 2024.

stay surrounded by greenery.
Currently, the hotel wing is being rebuilt. The seminar business continues in the usual form. From September 2024, we will offer 66 modern and high-quality new rooms, designed according to the 11 Styrian regions. Each of our rooms will be unique - take a journey through Styria in it.
celebrate in the green.
For celebrations of all kinds, the Steiermarkhof has 3 restaurant rooms with a total capacity of 240 seats and a large sun terrace. We offer our guests mainly Styrian cuisine with regional and seasonal ingredients. With the selection of the used food we set on products of farmer enterprises and regional supplier inside. The increased use of organically produced food rounds off our offer.
Picture gallery
Discover now
Details
Number of meeting rooms
20
Max. number of people
1200
Conference technology
Projector, stage, flipcharts, screen, pin boards, sound equipment, state-of-the-art technology for hybrid events (videoconference, livestream, online conference), mobile TVs, laptops, presentation cases, pads, pens, clipboards on request.
Transport link
Bus no. 31, 33, 62, 65, 66: Steiermarkhof or Peter-Rosegger-Straße, distance to central station 5 km, to the next motorway 3 km, to the airport 12 km
Parking
180 paid parking spaces available, 4 Highspeed charging stations for e-cars, bicycle parking
Specialities
Virtual tour of the Steiermarkhof

house gallery with changing exhibitions (courtyard gallery, high gallery, deep gallery)
The Hofgalerie (350 m²) can also be booked in conjunction with the Steiermarksaal for up to 23 exhibitor stands
3 lounges on the 1st floor
Covered terrace on the 1st floor
Court cooking school with 7 cooking booths for up to 30 people
10,000m² courtyard garden
Outdoor bread oven
Fireplace lobby from September 2024
Active garden from September 2024
Steiermarkhof
Ekkehard-Hauer-Straße 33, 8052 Graz
Number of rooms: 66
Leisure facilities:
Art and culture are very important at the Steiermarkhof. Enjoy a guided tour through the Hof gallery. Right next to the Steiermarkhof you can admire 14 lead glass windows and a mosaic painting made of Murano glass stones in the Christkönig church.

Pure nature enjoyment on the outskirts of Graz. Near the Steiermarkhof is the idyllic Buchkogel recreation area, which invites you to hike, walk and experience nature. From the Kronprinz-Rudolf-Warte you have a wonderful view of the surrounding countryside. An inviting running trail leads you from the Steiermarkhof directly to St. Martin Castle.
Courtyard restaurant (182 m²): 110 people
Garden restaurant (228 m²): 95 people
Stüberl (45 m²): 35 people
Courtyard café (162 m²): 30 people
Outdoor party area (212 m², not covered): 50 people
Outdoor terrace (268 m², not covered): 60 people
In-house catering with regional, seasonal products. No external catering permitted.

In-house catering with regional, seasonal products. No external catering allowed.
Sustainability concept Green Line:
Regional and seasonal dishes
Juices from Styrian farmers and exclusively Styrian wines
E-charging stations
Public transport connection
Ecological print works
Ecological cleaning products
Barrier-free premises
Purchase in bulk
reusable tableware
Biodiversity (grape vines, Ginko nature reserve, herb bed)
avoidance of plastic
QM system – ISO 9001:2015

Educational magazine with 4 focal points:
personality and literature
Arts and Culture
Food and health
Creative design

Closed between Christmas and Epiphany
Sunday only open on request
Smoking area in the courtyard
Accessible
Rooms partially passable by car
Room table
| | Size (sqm) | Hight (m) | Theatre | Parlament | Banquet | Reception | Air conditioning | Daylight | WLAN |
| --- | --- | --- | --- | --- | --- | --- | --- | --- | --- |
| Steiermarksaal (teilbar in A & B) | 354 | 5.1 | 400 | 150 | 285 | 285 | | | |
| Steiermarksaal A mit Podium | 175 | 5.1 | 120 | 50 | 0 | 0 | | | |
| Steiermarksaal B | 175 | 5.1 | 150 | 80 | 0 | 0 | | | |
| Grimming (teilbar in 1 & 2) | 164 | 3 | 150 | 70 | 0 | 0 | | | |
| Grimming 1 | 82 | 3 | 80 | 30 | 0 | 0 | | | |
| Grimming 2 | 82 | 3 | 80 | 30 | 0 | 0 | | | |
| Dachstein | 95 | 2.8 | 90 | 48 | 0 | 0 | | | |
| Schlossberg | 95 | 2.8 | 90 | 48 | 0 | 0 | | | |
| Erzberg | 88 | 2.9 | 90 | 48 | 0 | 0 | | | |
| Hochlantsch | 88 | 2.9 | 90 | 48 | 0 | 0 | | | |
| Demmerkogel | 80 | 2.7 | 80 | 40 | 0 | 0 | | | |
| Apfelstraße | 79 | 3 | 80 | 48 | 0 | 0 | | | |
| Kreischberg | 69 | 3 | 60 | 28 | 0 | 0 | | | |
| Ausseerland | 56 | 3 | 50 | 24 | 0 | 0 | | | |
| Südsteirische Weinstraße | 56 | 3 | 50 | 24 | 0 | 0 | | | |
| Kulm (teilbar in 1 & 2) | 55 | 3 | 50 | 16 | 0 | 0 | | | |
| Kulm 1 | 33 | 3 | 20 | 12 | 0 | 0 | | | |
| Kulm 2 | 22 | 3 | 10 | 6 | 0 | 0 | | | |
| Hochschwab | 53 | 3 | 50 | 24 | 0 | 0 | | | |
| Stradnerkogel | 51 | 2.7 | 50 | 24 | 0 | 0 | | | |
| Reinischkogel | 51 | 2.7 | 50 | 24 | 0 | 0 | | | |
| Hauser Kaibling | 48 | 3 | 50 | 24 | 0 | 0 | | | |
| Buchkogel | 40 | 3 | 30 | 20 | 0 | 0 | | | |
| Hofkochschule mit 7 Kochkojen für ca. 20 Personen | 160 | 3 | 30 | 0 | 0 | 0 | | | |
Address
Address
Ekkehard-Hauer-Straße 33, 8052 Graz