Accessible
Universalmuseum Joanneum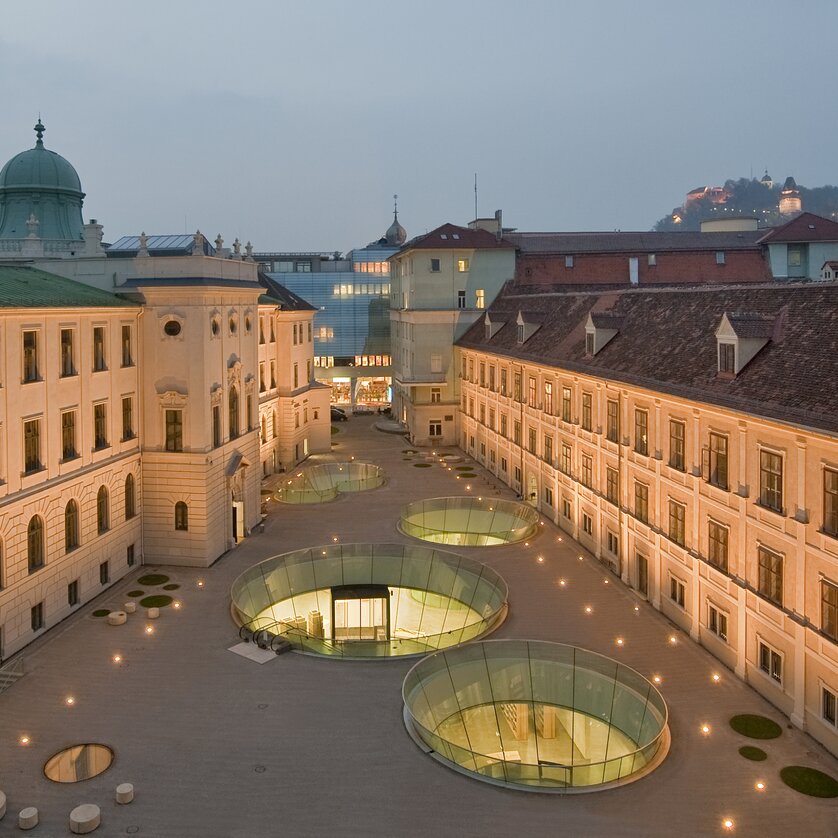 Give your imagination free rein
Exclusive event venues in Austria's oldest museum! Experience history in the Planetary Room at Schloss Eggenberg or on the fourth floor of the Styrian Armoury. Enjoy traditional flair in the Heimatsaal at the Folk Life Museum or the open air at the Austrian Sculpture Park.
Picture gallery
Discover now
Details
Number of meeting rooms
9
Max. number of people
1300
Conference technology
Beamer, stage, flip charts, screen, sound technology.
Furnishings and technical equipment vary depending on the room. Details on request!
Position
City centre of Graz (up to 5 km)
Transport link
Trams and busses: different connections depending on the venue 
Specialities
Museum opening hours: Tue - Sun, 10 am - 6 pm, event rooms can also be booked on closing days and outside of the museum's opening hours!
Special guided tours through the exhibitions possible!
Accessible
Room table
| | Size (sqm) | Hight (m) | Theatre | Parlament | Banquet | Reception | Air conditioning | Daylight | WLAN |
| --- | --- | --- | --- | --- | --- | --- | --- | --- | --- |
| Joanneumsviertel – Auditorium | 186 | 3.5 | 150 | 50 | 100 | 200 | | | |
| Joanneumsviertel – Foyer | 210 | 3.5 | | | | 250 | | | |
| Joanneumsviertelplatz (open air) | 1400 | | | | | 1300 | | | |
| Joanneumsviertel – Lesliehof (open air) | 680 | | 300 | 150 | 150 | 350 | | | |
| Volkskundemuseum – Heimatsaal | 208 | 5.7 | 150 | 80 | 80 | 250 | | | |
| Volkskundemuseum - Foyer | 74 | 3.5 | 40 | | | 100 | | | |
| Volkskundemuseum – Duftgarten mit Pavillon (open air) | 700 | | | | | 120 | | | |
| Museum für Geschichte – Prunkraum 207 | 140 | 5.8 | 100 | 60 | 60 | 120 | | | |
| Museum für Geschichte – Innenhof (open air) | 421 | | | | | 500 | | | |
Contact
Contact
Gabriela Filzwieser
Address
Contact
Universalmuseum Joanneum
Address
Mariahilferstraße 2-4, 8020 Graz